Dear users,
In version 4.17.0 we are introducing OriSound™, a long-awaited feature that allows to record audio exclusively from selected games and applications!
This feature has been requested by hundreds of users that needed to use second PC or specialized headphones to split main audio track and voice chat sound.
These times are over. You no longer need to waste your money on additional hardware.
You can select your favorite voice chat application (like Discord) and record it into separate audio track that will not be mixed with main game audio track!
Additionally the sound you record will never be modified by sound card post-processing so you always get original volume, pitch and tone.
It will also not get disturbed by random system "blips" comming from popup windows etc.
HOW TO USE ORISOUND™:
1. Use "Selected application" from audio device list (either primary, secondary or aux device).

2. A window will appear showing currently detected sound sources in the system (from system audio mixer).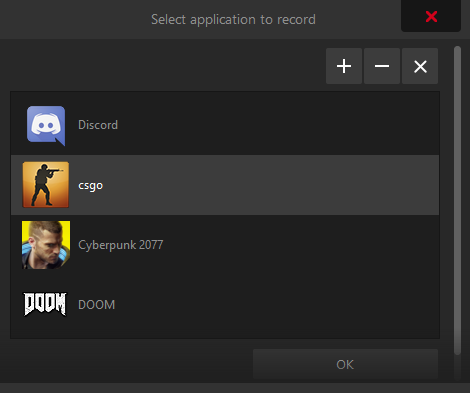 3. If the application you want record sound from is not running or is not visible on the list you can use the '+' button to select its exe file (you need to manually find its location first).

NOTES: This feature might not work for anti-cheat protected games and some games with spatial audio like Dolby Atmos. This will be added soon in version 4.18.0.
Other changes in version 4.17.0:
Fixed CS:GO with Nvidia SLI enabled
Support for duplicated monitors has been fixed
Improved downmix of multi-channel audio to stereo
Fixed HDR10 recording on AMD GPUs with latest AMD drivers installed
Added fullscreen mode to JPEG XL viewer
Stability fixes
We are also working hard on Action 5 and Action 4.18.0 that will add support for Kernel Proxy Audio recording and integration of Vulkan layer with Action core libraries that will fix Action Vulkan layer interoperability with anti-cheat protected games.