Yeah, you've found it!
The most advanced Screen Recording
and LIVE Streaming software.
Superb HD Video Capture with Webcam and Microphone
Support for Streamlabs and other Overlay Services
Real Time On-Screen Drawing Panel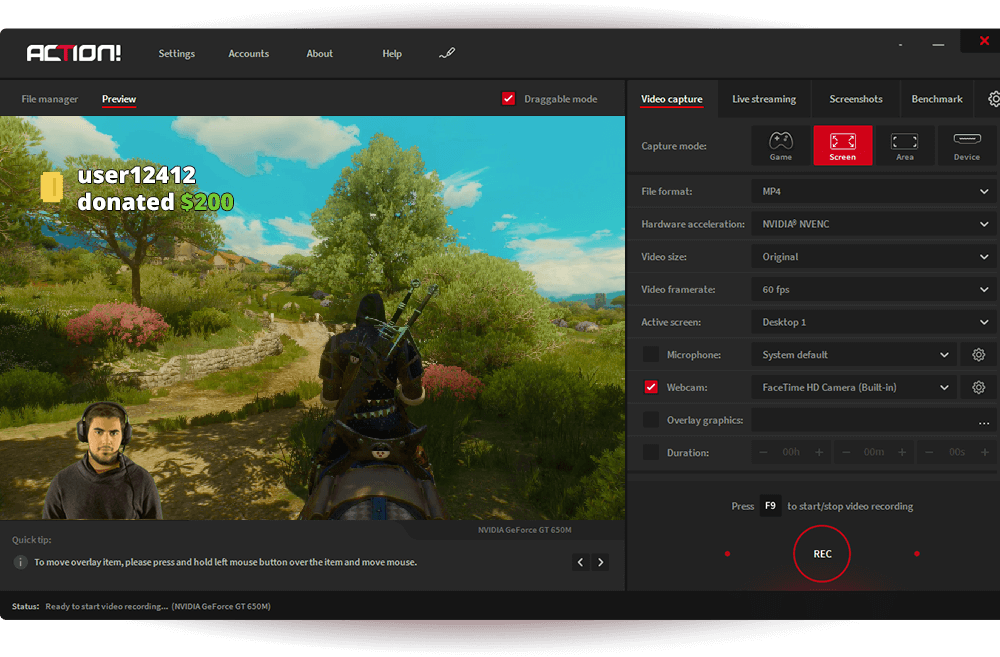 The Most Advanced Overlay Management System
With our fully customizable Advanced Overlay System you can add up to 12 unique layers to set up your stream. Easily monitor the status of your stream thanks to the control layers that are visible only to you and not included in your stream. You don't need any additional display monitor, all information you need is already in front of you.
6 modular URL Overlays such as Twitch chat, Alertbox etc.
Easy On-Screen Customization of Logo, Webcam, and other Widgets
Green Screen Effect for webcam or 3D Intel RealSense Background Removal
Real-time On-Screen Drawing Panel
Monitor the status of your recording and game performance (non-recorded area)
Live preview of your video composition
Overlay layers could be from: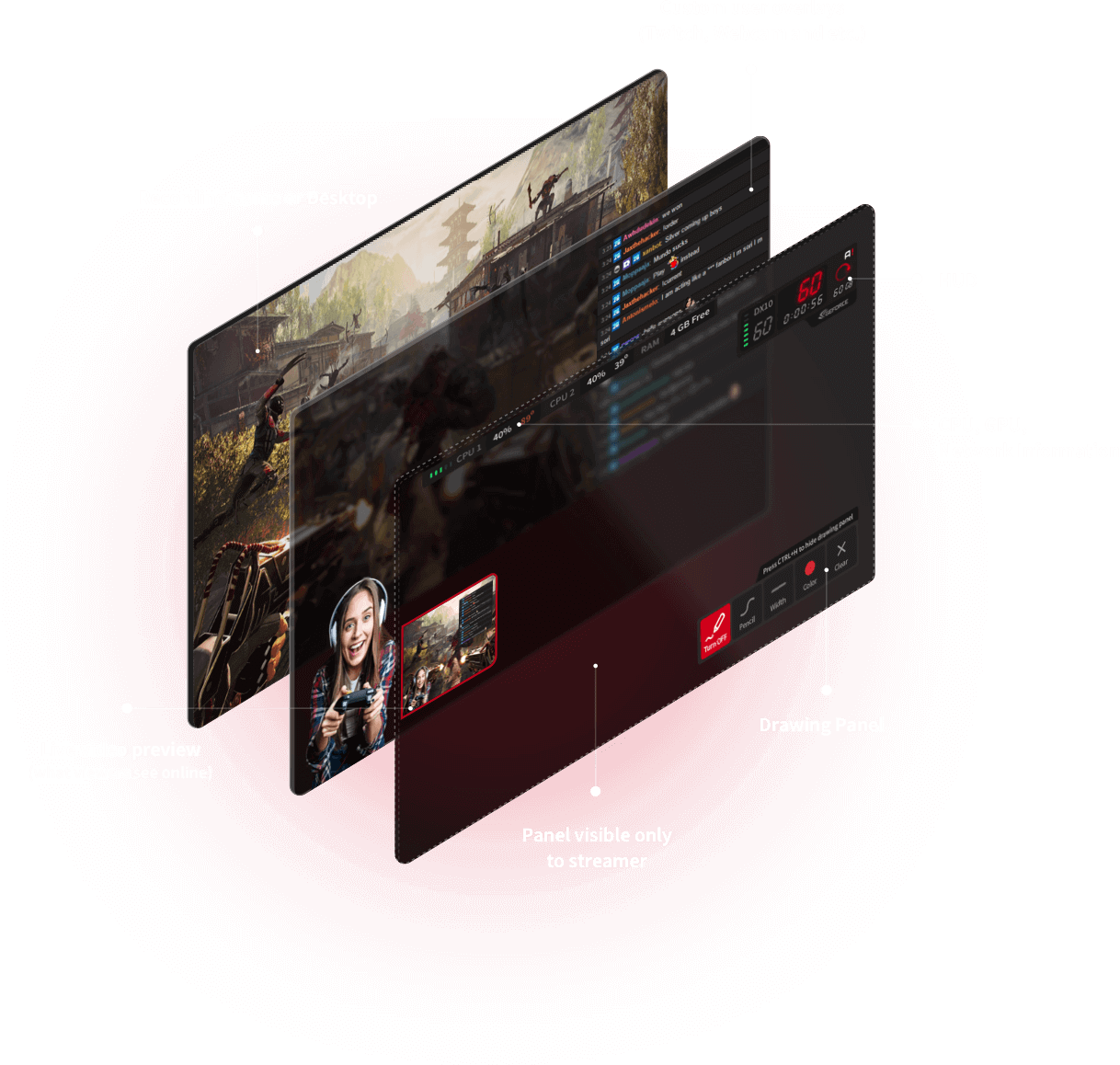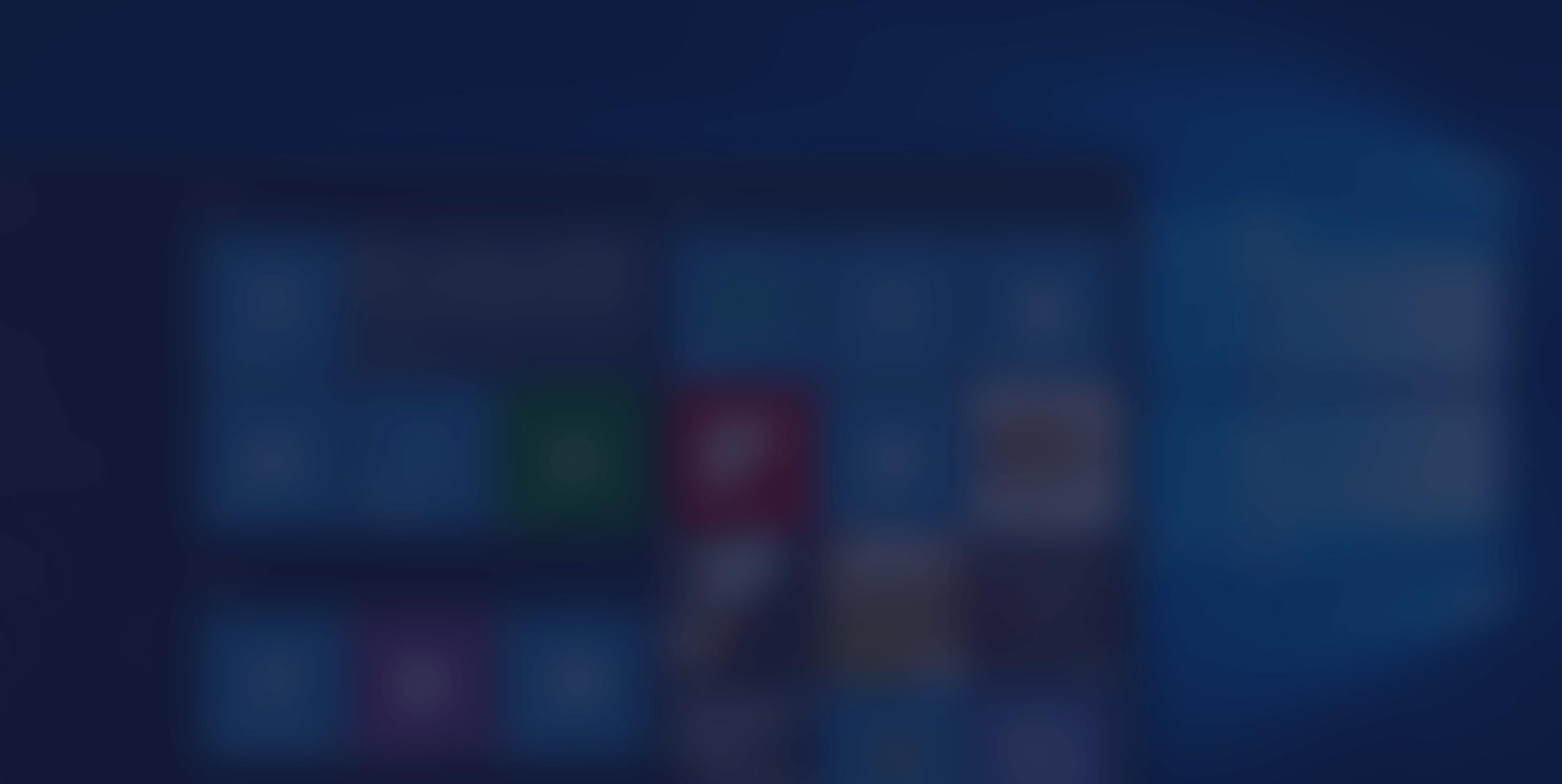 The Fastest PC Remote
Access Software For
Android And Windows
The Fastest PC Remote Access
Software For Android And Windows
Simple, Secure Way to Work from Anywhere
Use All Windows Applications Remotly on Android Devices
Invite Users to Connect and Use Your PC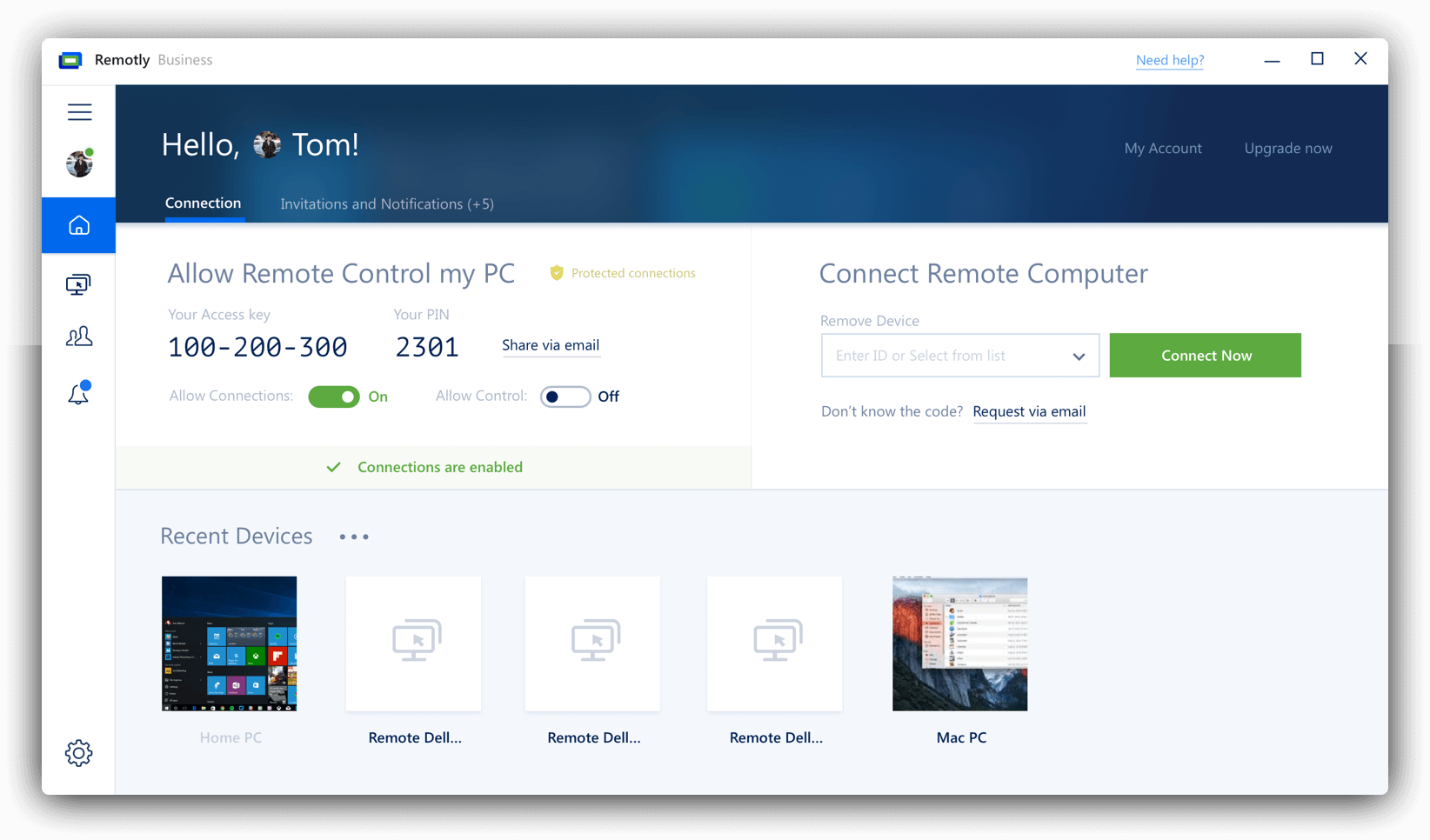 All-inclusive LIVE Streaming Software for PRO Streamers
Estimated Launch Date: 2018
Streaming to Multiple Platforms Simultaneously (Twitch, YouTube, Facebook, etc.)
Multiple External Camera Sources
Use various Scenes, Templates, Transitions during your LIVE Stream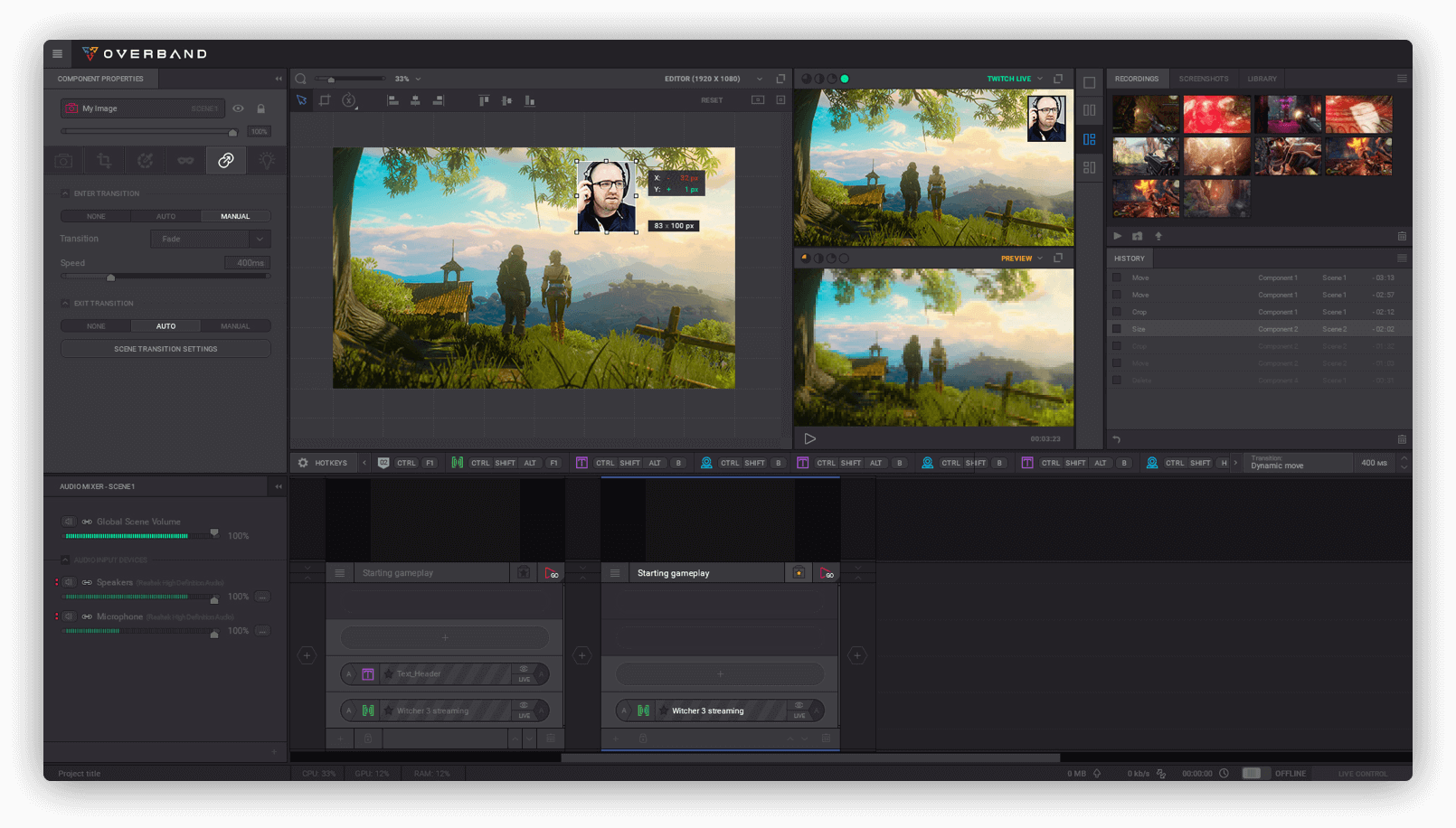 The choice is yours!
The most advanced screen recorder and gameplay recording software.
Superb HD video quality and the world's best recording performance!
Live streaming gameplay and desktop to Twitch.tv, YouTube, Facebook, hitbox and more!
Professional Overlay Layers System i.e. Twitch chat, Alertbox, Viewer Count and more!
On Screen Desktop and Game Drawing Panel
Smoothest real-time gameplay and Windows desktop recording ever!
Hardware accelerated video exporting with NVIDIA NVENC, NVIDIA CUDA, AMD APP or Intel Quick Sync Video technologies to popular formats and devices.
Adding live audio commentary to create high quality video tutorials.
HD video recording directly to MP4 format with Intel Quick Sync Video, NVIDIA NVENC and AMD APP!
User friendly and stylish interface
The best remote PC access for Android devices and Windows PC.
The best remote PC access for Android devices and Windows PC.
Access and control your PC remotly from Android devices or Windows PC
Use your favorite Windows applications on Android devices!
Play all your PC games in an awesome HD quality on Android mobile devices!
The unbeatable performance providing lag free, smooth HD games, desktop and applications.
Watch movies, TV shows and live streams from your PC
The fastest PC remote software for Android and Windows
Easy to use and stylish interface
Fully customizable game controls to easily play any PC game on your Android devices
Professional broadcasting software for live streaming production
Professional live streaming tool with support for multiple scenes, layers, inputs and more
Simultaneous live streaming to all popular streaming services and custom RTMP servers
Rich library of templates, effects and transitions
Full control over your broadcasts with unique Overband control tools
The ultimate performance provides the best broadcast quality using low PC resources
Adding multiple webcams with optional automatic background removal using Chroma Key or Intel RealSense technology
Smooth, high quality 4K Ultra HD video capturing
Support for capture cards to broadcast video from external devices: gaming consoles, camcorders, computers...
Support for Streamlabs widgets and other custom web sources
Sleek, powerful and user friendly interface