Enter your email address to receive a free key for 180 days

Your license key has been sent. Please check your email in a few moments. You can

DOWNLOAD ACTION! NOW

You have already claimed your key!

We are sorry but all available keys have been claimed already
The Most Advanced PC Screen Recording Software

The Most Advanced PC Screen Recording Software

The Most Advanced PC Screen Recording Software

The Most Advanced PC Screen Recording Software

The Most Advanced PC Screen Recording Software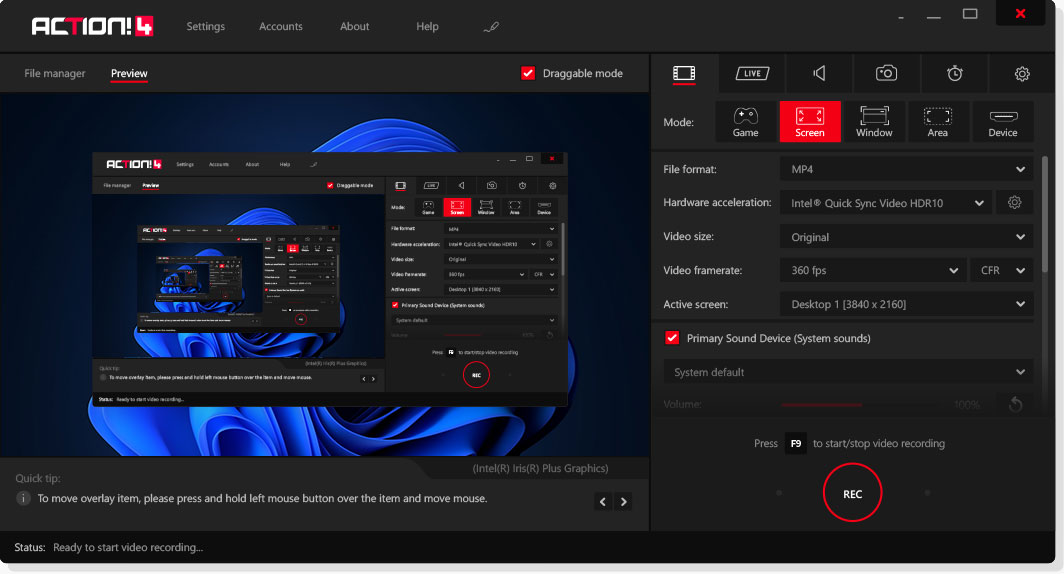 Safe REC

In case of system crash or power failure Action! will automatically recover corrupted MP4 recordings

LIVE Streaming

Broadcast your videos to streaming services like YouTube, Facebook and Twitch in highest quality

Overlay Support

Use web overlay widgets and add up to 6 modular URL overlay graphics, webcam and your own logo

Drawing on Video

Improve your tutorials with descriptions, highlights and shapes. Work fast and efficient!

8K Ultra HD Support

With Action! you can capture videos in HD, 4K or even 8K

HDR Support

Action! is the only software that supports HDR video recording and streaming on all modern GPUs

Slow Motion Effect

Add amazing slow motion effects (360fps) to your videos

Window Recording

Select the window of interest that you want to capture with an easy-to-use window picker
Safe REC

LIVE Streaming

Overlay Support

Drawing on Video

8K Ultra HD Support

HDR Support

Slow Motion Effect

Window Recording
Remote PC Access and Gaming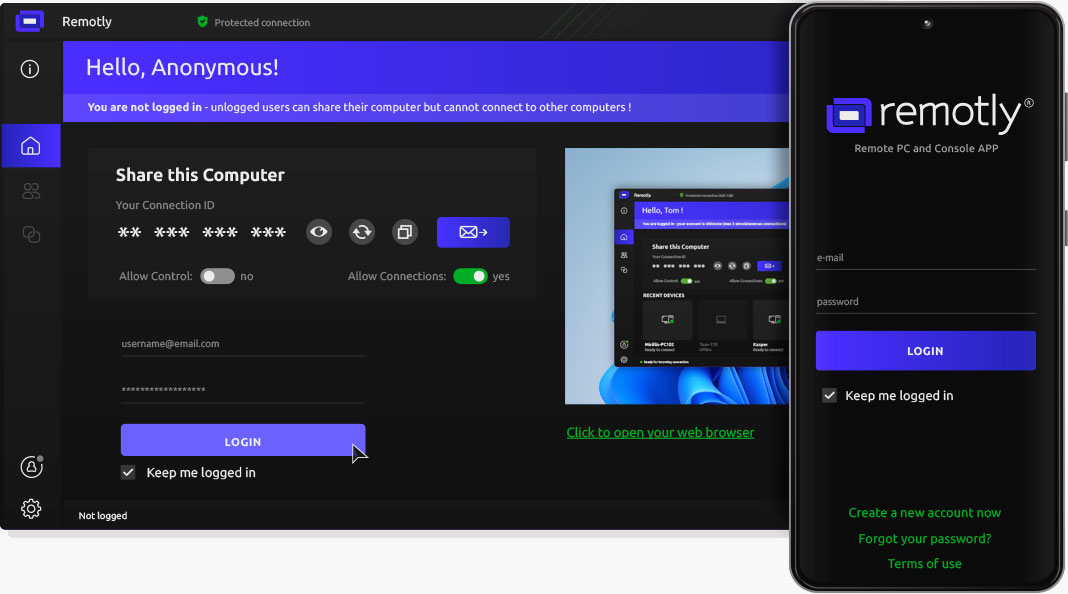 Secure Connection

All data is securely transferred using AES-128 encryption

Connect Anywhere

Connect Anywhere guarantees the best connection quality even behind multiple NATs and firewalls

Share your Gaming PC

Share your computer with your friends

Perfect Remote Access

Remotly allows connecting to remote PCs in Ultra HD resolution

Fast File Transfer

Transfer your files from and to remote PCs

Real-Time Monitoring

Use your remote PC camera for monitoring purposes

Play PC Games Remotely

Play any game you have installed on your Windows computer

Game Control Manager

Fully customizable control system allows you to play any game you want with no exceptions
Secure Connection

Connect Anywhere

Share your Gaming PC

Perfect Remote Access

Fast File Transfer

Real-Time Monitoring

Play PC Games Remotely

Game Control Manager
Professional Streaming Station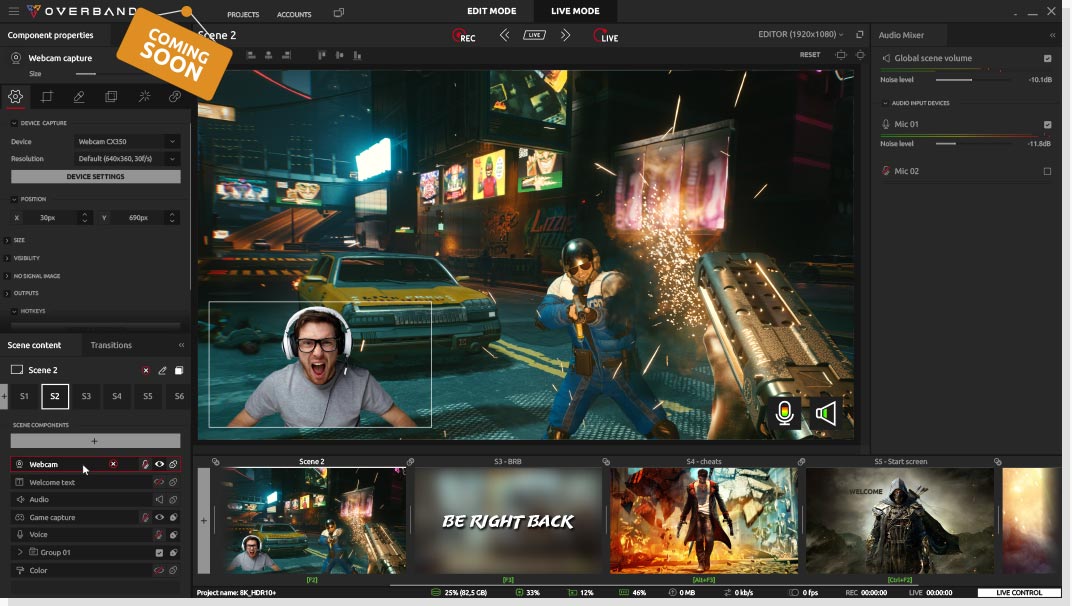 Professional Broadcast

Create professional multi-scene broadcasts with multiple video sources

Supports Capture Cards

Capture consoles and external video devices using hardware capture cards

Lots of Resources

Built-in library of effects and transitions

Multi Overlay Support

Create complex broadcast projects with web widgets, intro and outro videos and more

User Friendly

Advanced, yet easy to use interface

Chroma Keying

Remove your camera background using high quality color keying, 3D depth cameras or Artificial Intelligence

Control your stream

Easily control your stream using PC or external web application

Stream in HDR

Amaze your viewers by broadcasting in HDR!
Professional Broadcast

Supports Capture Cards

Lots of Resources

Multi Overlay Support

User Friendly

Chroma Keying

Control your stream

Stream in HDR
Key people
Pawel Hladkiewicz
Mirillis Founder
Piotr Gorak
QA and Technical Support
Joanna Hladkiewicz
Customer Support
Tomasz Tarczewski
Expert Developer
Piotr Jaholkowski
Expert Developer
Since 2008 at Mirillis we are passionate for developing advanced Audio/Video playback, recording, transcoding and streaming products for home and professional use.
In 2009, we have released Splash video player with one of the fastest software H.264 video decoders. These were the times when hardware accelerated video decoding was not widely available.
In late 2011 we have released the first version of Action! Screen and Game Recorder. It was the World's first software for screen capture using Intel's 1st Gen. Quick Sync Video hardware acceleration.
In 2013, we have added hardware accelerated video encoding using Nvidia NVENC and AMD AMF.
In December 2019 we have released Action! 4 -- still the only software product for high quality HDR desktop and game recording in HD, 4K and 8K resolutions.
Early 2020 we have added JPEG XL screenshot creation in HDR.
Since Fall 2020 we support real-time 4K HDR video streaming with high quality HDR video composition bringing the ultimate broadcasting experience!
With us you are ready for the brilliant and colorful future in HDR!
See more