Live streaming gameplay to Aliez (Aliez.tv)
Action! LIVE Streaming allows to stream all your gameplays or desktop activites online. Play games and share your gameplay with viewers from all over the world with Aliez (Aliez.tv) service.
Follow this tutorial to learn how to stream gameplay to Aliez.
Run Action! and select "Live streaming" tab.

To stream gameplay to Aliez please see Streaming service settings group and select Aliez from "Streaming service" dropdown.
It is recommended to sign up for Aliez account. Open http://www.aliez.tv and log in or sign up for a new account. Click Start Your Broadcast button.
On the next page select Computer Game and choose your existing channel or create a new channel if required. Details for Broadcast page displays all broadcast details required to setup Action! Streaming service settings.

Copy FMS/RTMP URL to Action! Server/URL field and Stream/Stream name to
Action! Streamkey field.
Use video size, framerate and bitrate settings to setup your broadcast.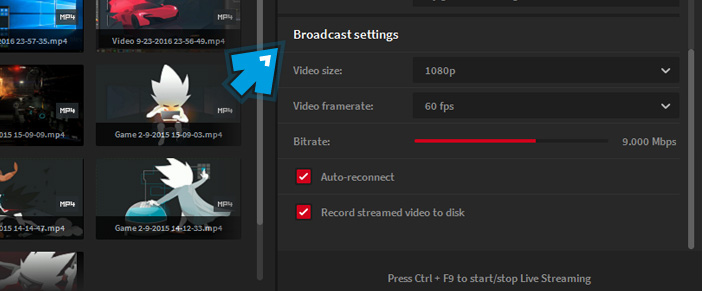 Recommended video size for live streaming to Aliez is 480p.
Please remember that you must adjust your settings to your internet connection upload speed. If you experience any performance problems please reduce video size and/or framerate/bitrate and try again.
Set Games and Application recording mode
Switch Action! recording mode to "Games and Applications".

Start LIVE Streaming to Aliez with Action!
Run your game, Action! HUD should appear in the top right (default position) corner of your game displaying current game framerate in blue color. This means that game is active, Action! is connected and ready to start gameplay streaming.
Press CTRL+F9 hotkey to start gameplay streaming to Aliez. HUD status displays "LIVE" icon showing that gameplay streaming is in progress.

Press CTRL+F9 hotkey again to stop gameplay streaming. HUD status changes showing that your gameplay streaming has finished.

If you want to check your broadcast or share a link with friends please see Aliez Details for Broadcast page. Broadcast Page link is displayed under URL and Stream name information.