Live streaming to Facebook
With Action! LIVE Streaming option you can stream all your Windows PC activity, all videos and gameplays directly to Facebook. Play games, videos, use your favorite apps and share it with friends and viewers from all over the world!
Follow this tutorial to learn, step by step, how to live stream to Facebook.
Run Action! application and open "LIVE Streaming" tab.

From "Streaming service" dropdown select Facebook and click Account manager to log in to your account.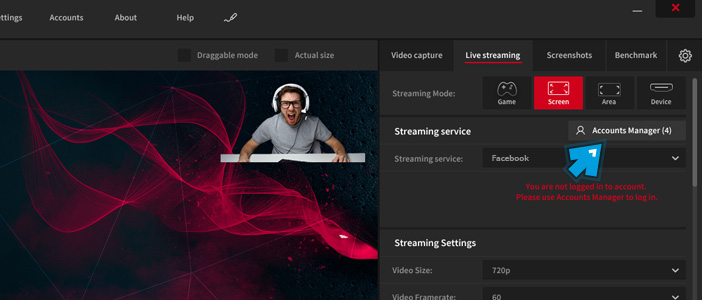 Login to your Facebook account
Click Log in to Facebook button.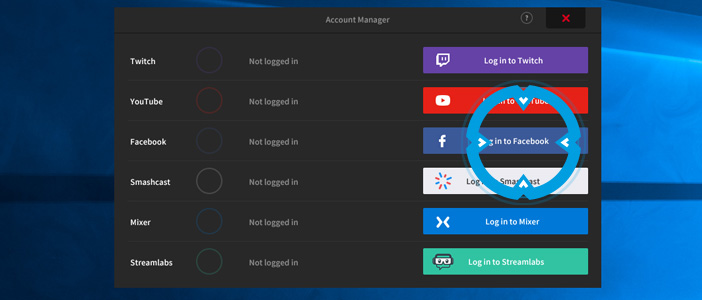 Login to your Facebook with new Login window diplayed and accept MirillisStreamer app to post on your Facebook.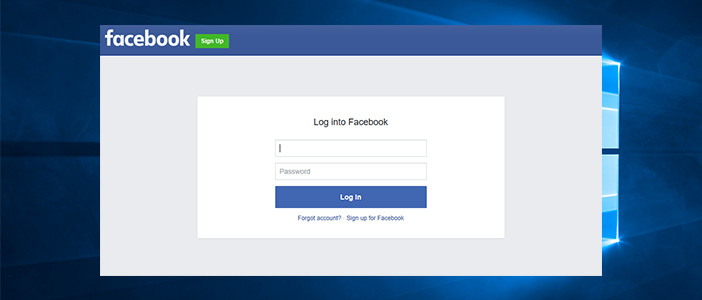 You are logged in. Now, you can change your Privacy settings: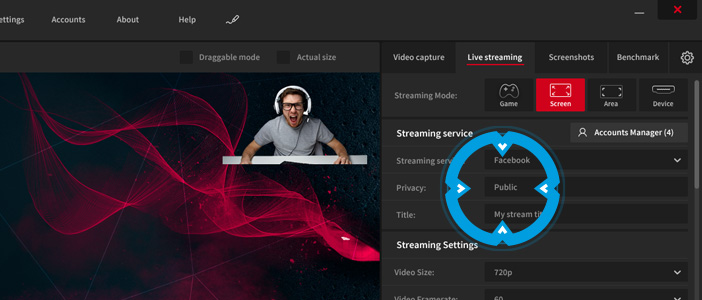 Use video settings (size, framerate and bitrate) to setup your Facebook broadcast.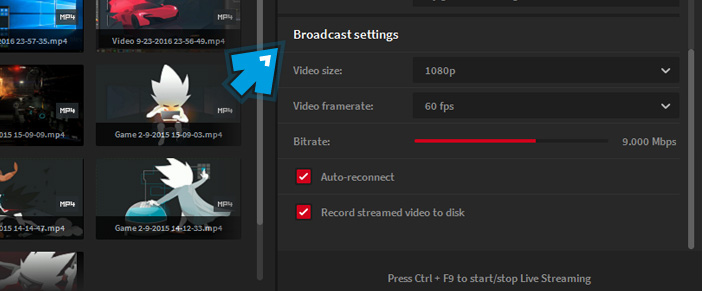 To live stream to Facebook in smooth HD video quality we recommend to use PCs with AMD APP, Intel Quick Sync Video or NVIDIA NVENC video encoding hardware acceleration.
Please remember that you must adjust live streaming settings to your internet upload speed. If you experience any performance or quality problems with live streaming, please use lower video size and/or lower framerate/bitrate and try again.
Set your preferred recording mode
Switch Action! recording mode to "Games and Applications", "Active screen" or "Active desktop region". Games and Application recording mode is dedicated to capture and live stream all DirectX and OpenGL games or applications both in fullscreen and windowed mode. Active screen mode is perfect to live stream games, fullscreen videos or any other activity on your PC. Select Active desktop region mode if you plan to live stream only selected area of your screen.

Start LIVE Streaming to Facebook with Action!
Check for Action! HUD in the top right corner of your screen or game displaying current game framerate in blue color. This means (blue colored fps) that Action! is ready to start live streaming to Facebook.
Press Ctrl+F9 hotkey to start your Facebook live stream. Action! HUD will display "LIVE" icon and number of your Facebook live stream viewers.

Press Ctrl+F9 hotkey again to stop your Facebook live stream.

Streaming to selected Facebook page or channel using Stream Key
Using the method described in this tutorial you can easily live stream your PC activity to your Facebook wall. If you don't want to live stream to your wall, but to some specific Facebook page/channel you must select Custom Streaming service and provide Server and Streamkey for your target Facebook page/channel. This way may be also important if you experience problems with Login with Facebook in Action! application.
Follow a few steps below to learn more.
1. Run Action!, click LIVE tab and select Custom Streaming service.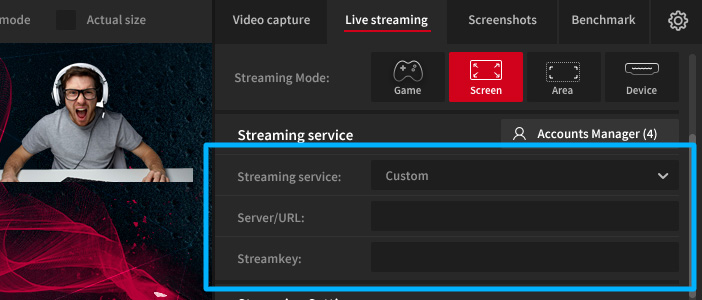 2. Open Facebook page with web browser, log in to your Facebook Page, and select Publishing Tools in the top navigation bar.
3. On the left menu, click on the Video Library option under the Videos section and click on the + Live button to setup your Live post.

4. Check the Separate Fields group for Server URL and Stream Key.

5. Copy and paste both Server URL and Stream Key to Action!
You are ready to live stream to your Facebook Page.