Recording webcam with Intel RealSense background removal
With this tutorial you will learn how to setup your webcam to record it with automatic background removal using Intel® RealSense™ technology.
Requirements for using webcam background removal with Intel® RealSense™:
4th generation and future Intel® Core™ Processors
Operating Systems: Windows 8.1 or Windows 10
Webcam with Intel® RealSense™ technology support
Download and install Action! version with Intel® RealSense™ support
Download Action! with Intel® RealSense™ support
Select webcam device to be added to gameplay recording
Check Webcam option and select your Intel® RealSense™ 3D Camera (Background removal) from the Webcam list.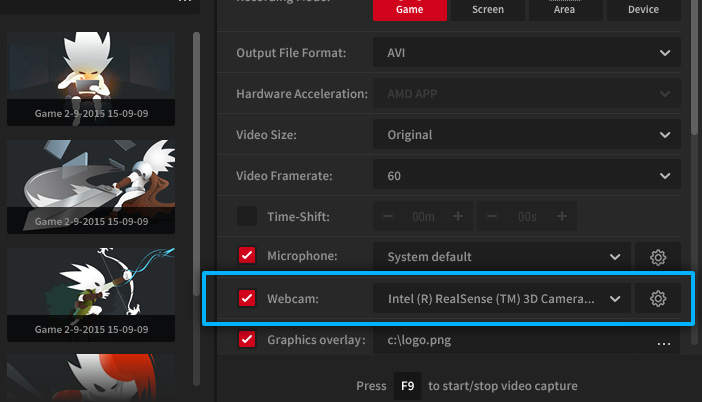 For more webcam recording settings please open Action! Webcam Settings.

Webcam recording settings and preview
Set webcam Recording mode to Always record or Record on button down and adjust other settings if required.
Check preview to see how your webcam will look like in final video recording. Adjust webcam size and position using "Draggable mode".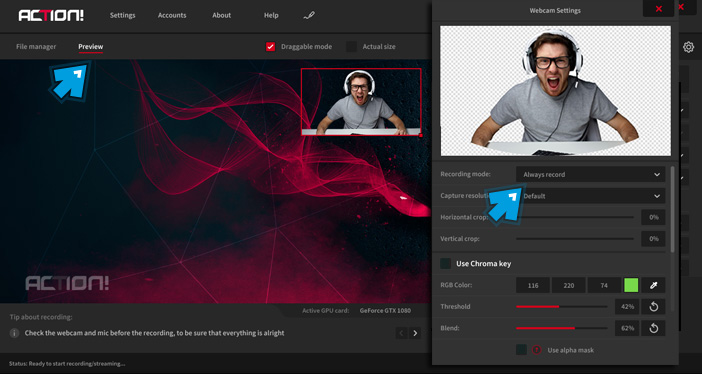 Make a gameplay recording
Make a gameplay recording and enjoy webcam recording with automatic webcam background removal.