Do you know that live streaming is awesome?

Well… Facebook knows that too, that is why in April 2016 Facebook introduced a totally new and really cool feature called Facebook Live. Simply put, Facebook Live allows users to broadcast a real-time video from mobile devices or computer's camera directly to their Facebook personal profile or company page News Feed. Since that time, we have witnessed a true explosion of new live stream videos on Facebook. Why has Facebook LIVE streaming gained such huge popularity? The answer seems to be obvious; it's simple, fast, eye-catching and it works!
Considering the changes Facebook introduced on the 1st of May 2019, we prepared a short article explaining all the innovations to Facebook Live streaming and we present a step-by-step guide to set up a successful stream after May 1st.
So, if you want to stay up-to-date with all FB Live revelations, let's get started!
When it comes to changes, there is actually only one but significant difference in Facebook Live streaming that applies to the way of transmitting audio and video across the internet. To be more specific, until now Facebook used RTMP protocol to send data between encoder and server, which generally ensured the high-performance transmission of video, audio, and data. However, from 1st of May Facebook forced streaming throughout encrypted RTMPS protocol.
Why?
Well, while the RTMP connection seems to be quite reliable in terms of performance, it appeared to be spoofing sensitive. All right, but what on earth is spoofing? Well, it means that someone can theoretically, and practically, reroute your stream to a different server, spy on you or even inject some nasty video in your stream. So imagine: You are happily streaming your video and all your viewers see something…well, different or sometimes inappropriate. To avoid such interference, which is often called "man-in-the-middle" attack, the best option is to secure your connection with RTMPS which uses TLS/SSL encryption.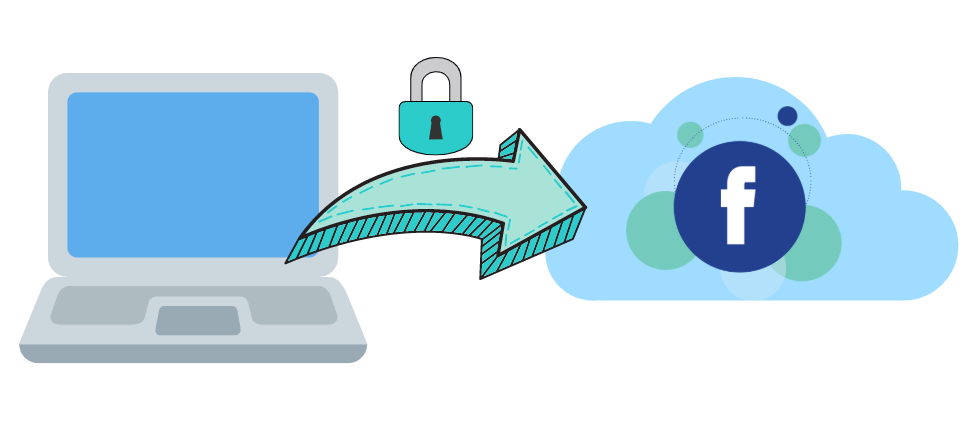 How does it work?
To put it straight, RTMPS streaming encrypts the stream between client and server so that you are sure, that your stream reaches the right receiver, in this case – Facebook CDN.
Now, when we look at the above explanation, the reason for changing the protocol, to the one that will secure the connection, seems to be a good and necessary step towards improving the security of connection in the network. So, whenever you plan to stream a professional video, highly confidential material or just care about your copyrights, using the encrypted connection is one of the ways that will greatly improve the security of your video transmission.
There is, however, one thing left you might want to know, namely:
Is there anything I need to do to make my stream compatible with Facebook Live streaming after introducing RTMPS protocol?
Well, first and foremost, make sure that the streaming software you use supports RTMPS live streaming. If yes, there are two different ways you can use to set up a successful stream on Facebook: first by using a Facebook Stream Key and the second by logging into the software account manager and broadcasting directly from the application.
To explain both methods step-by-step, we use Action! – most reliable and user-friendly software highly recommended when live streaming on Facebook. Although, at first sight, the software may appear to be quite compact, it is, in fact, a powerful tool that incorporates a wide range of impressive features both for live streaming and video recording. The huge advantage of Action! is its ease of use – you can start your first stream just in a few seconds! If you want to try it, click here.
So now, if you are equipped with the right software, you have a decent PC and your internet connection is of good quality, you can start your first live stream.
The most convenient way of starting your LIVE stream on Facebook is logging into the software account manager.
1.Live streaming to Facebook using Action!'s account manager.
To launch your first stream, open Action! and select "LIVE" tab on the top. Then click on the Account Manager and login to your Facebook account. Next, change your Streaming service to Facebook and click the "Live" button or press Cltr+F9 hotkey to start/stop your streaming. Do not forget to adjust your privacy settings and give a title to your stream.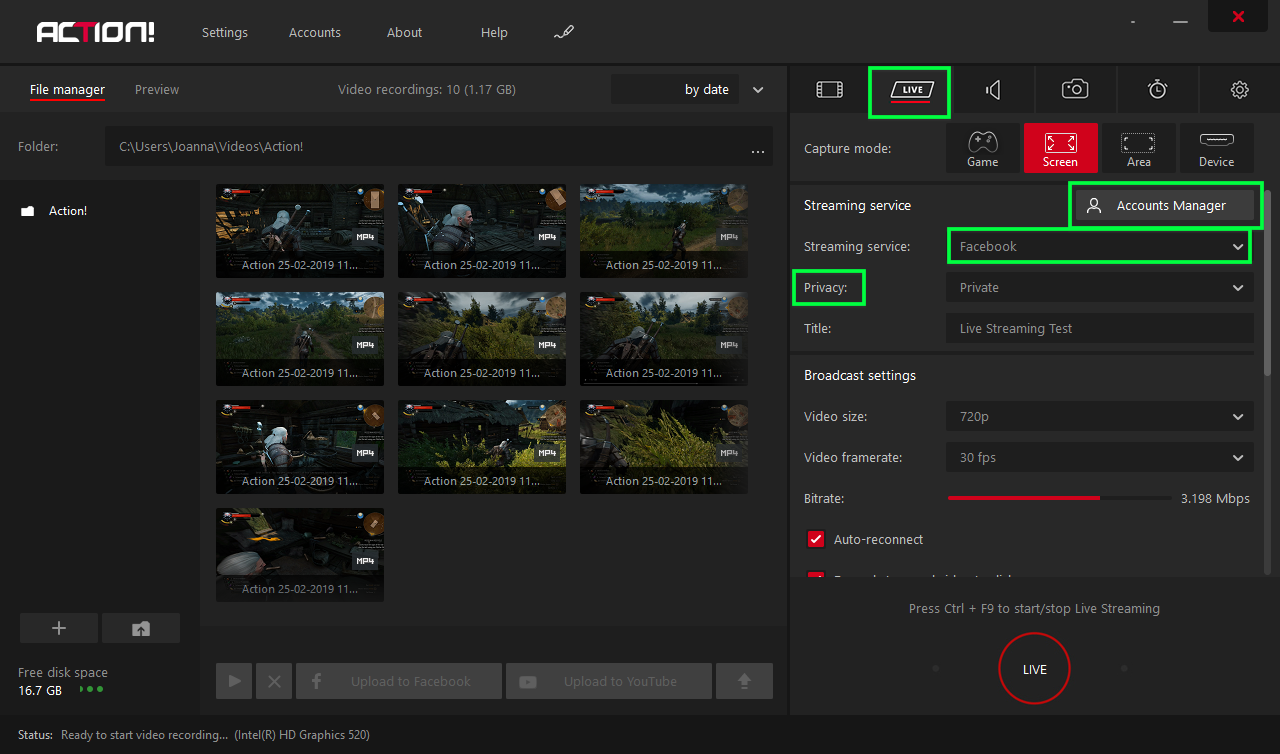 As soon as you start your LIVE transmission, the blue HUD icon in the top right corner of your screen changes into a red LIVE icon. This basically means that your streaming is in progress. Now, you can go to your Facebook news feed to see the preview of your LIVE video. Stop your transmission by pressing Ctrl+F9 hotkey.
2.Live streaming with Facebook Stream Key
To set up a stream you need to log into your Facebook account and go to your News Feed. Next, select "Live Video" from the top menu.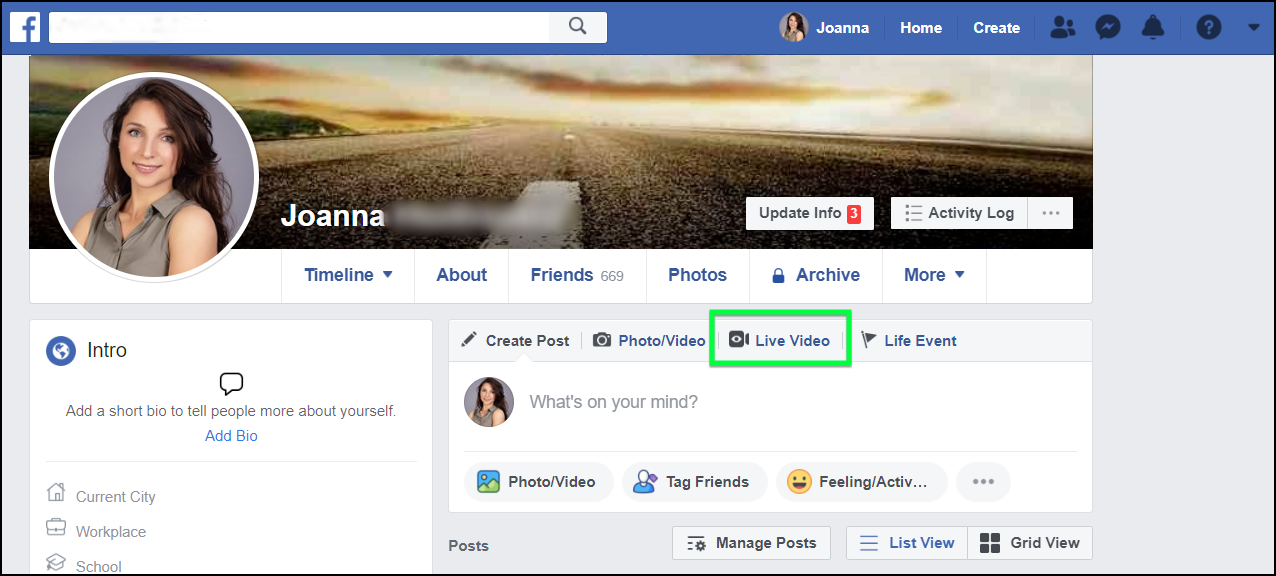 Click "Connect" to see your server URL and Facebook stream key.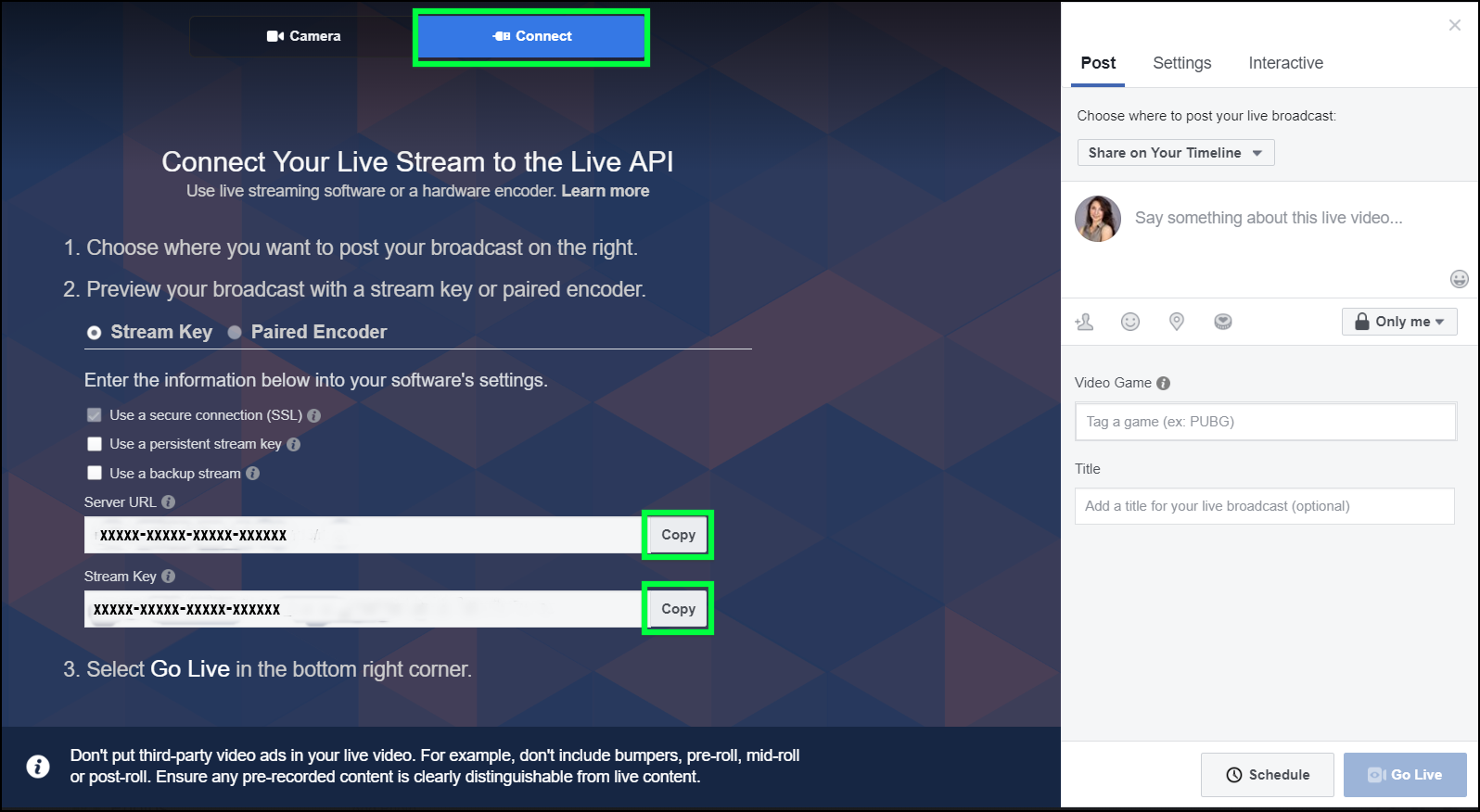 Open Action!, select "Live" tab, drop down "Streaming service" list and select "Custom".
Next, copy and paste server URL and Stream Key in the right fields in Action!'s user interface.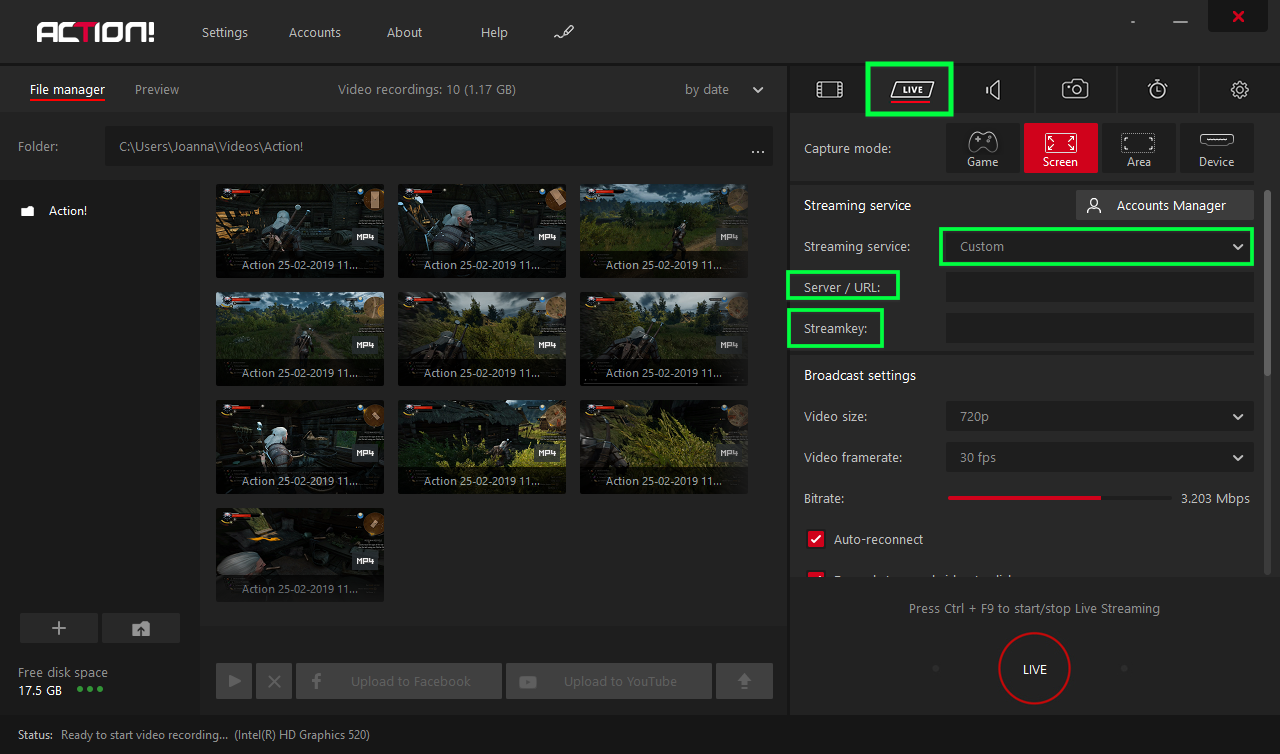 Before you start streaming, make sure that all the settings are correct, i.e. microphone volume, webcam, etc.
Next, go back to your Facebook streaming page to prepare your stream. Write something about your stream, adjust privacy setting – decide who can watch your stream, and give a title for your live broadcast.
Then go back to Action! and click a big LIVE button at the bottom of the interface or use Ctrl+F9 hotkey shortcut to start streaming.
To sum up, introducing RTMPS protocol to secure the client-server connection seems to be the right step towards improving the safety of audio-video transmission across the net. Although not all social streaming services use RTMPS protocol for data transmission, it is a matter of time before everyone applies to new requirements.