Would you like to start a custom RTMP streaming on Twitch but you can't find your Twitch Stream Key?
Well… Look no further!
Watch our short video and localize your Twitch Stream Key in less than few seconds.
Since live streaming is getting more and more popular nowadays and there is a growing need for a professional but still user-friendly live streaming tool, we are happy to announce that our team of devoted developers is working on a totally new project of professional streaming software that is called OVERBAND BROADCASTER STUDIO. If you like the screenshot below and you would like to be informed about any news, please keep in touch!
Coming soon…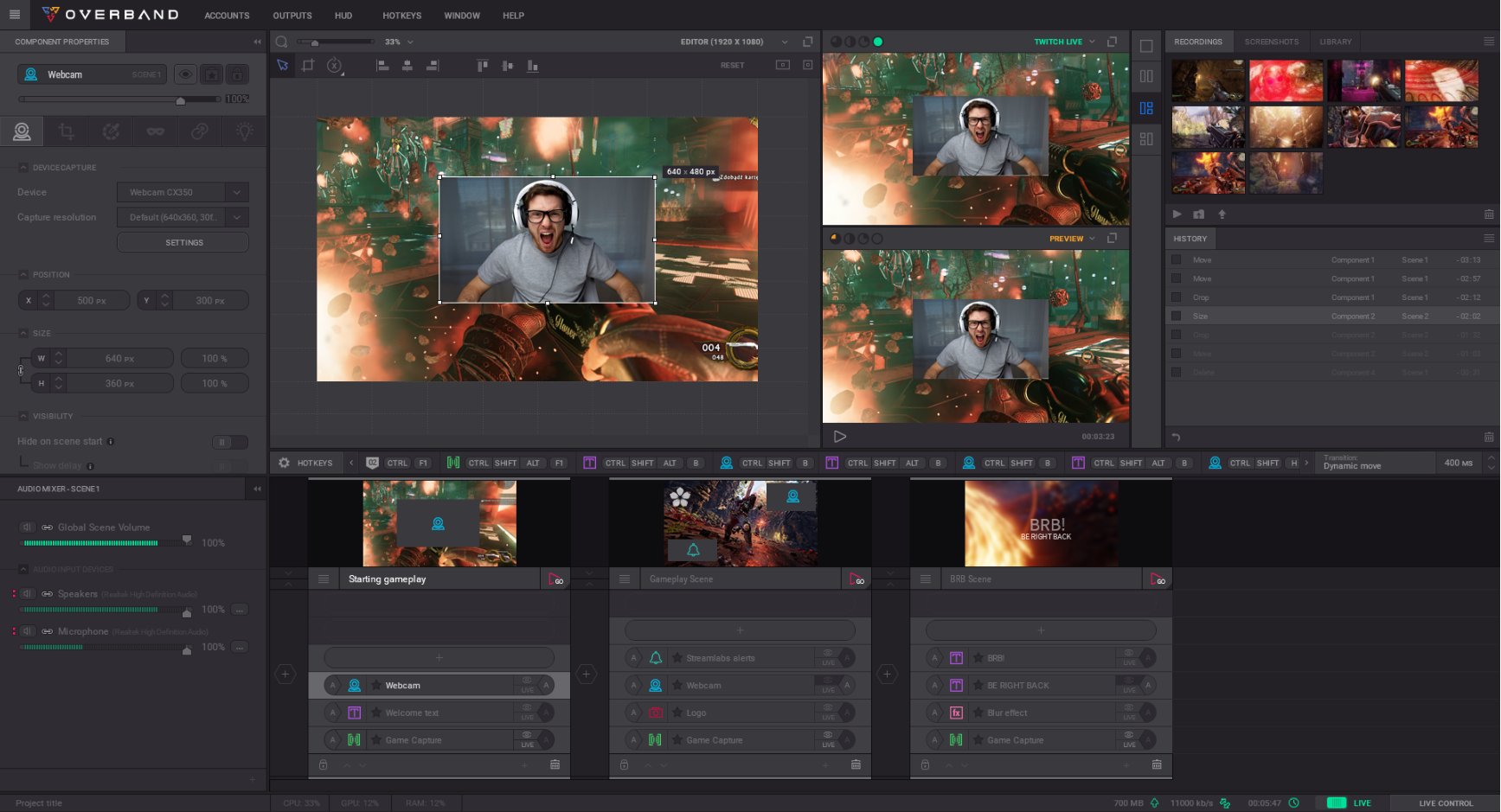 If you are just starting your streaming career and you would like to learn more about Custom RTMP streaming or other alternative ways for Live broadcast on Twitch, keep reading.
And if you're looking for a feature-packed and intuitive Live Streaming Software that allows you broadcasting your video anywhere you want in  HD quality with almost no FPS drop and a minimal CPU/GPU usage, 4K webcam support, Twitch alerts and more, then click the link below to download try Action! for free right now:
Action! 3.0 – PRO Live Streaming and Recording Software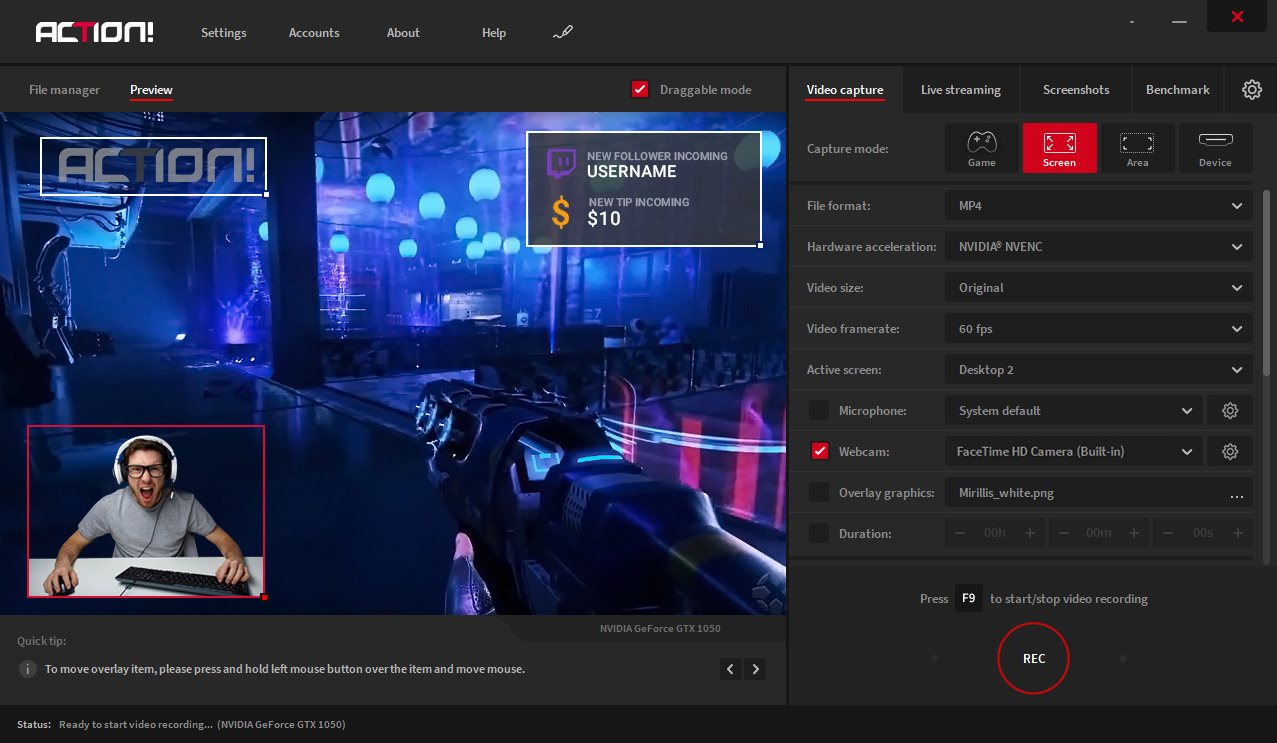 Watch the video below and localize your Twitch Key in less than a few seconds!
At the very beginning of this article, we must answer a few questions:
What is a Twitch Stream Key and what for do I need it?
Twitch Stream Key is a special code that together with a custom RTMP server URL, allows you broadcasting to your Twitch account without a need to log into the application's Account Manager. Such method of streaming was pretty popular few years ago but this has changed a bit recently.
What is the reason for this change?
Nowadays, all decent Live Streaming Software has built-in account managers that allow you to log into your Twitch, YouTube, etc. accounts from the application level and there is no further need to look for your Twitch  Stream Key and Custom RTMP Server URL. If you would like to see, how fast you can start your Live Stream using Action!'s built-in account manager, have a look at the video below:
However, if you don't want to authorize the application or whatever the reason is, you can broadcast to Twitch without logging into the software.
Basically, to start streaming to Twitch using a Twitch Stream Key you need 4 things:
Live Streaming Software – in this case, we are gonna use Action! 3.0
Twitch Account
Twitch Stream Key
Twitch RTMP server
If you would like to try Action! 3.0 as your Live streaming application, click the link below to download the software:
After going through a few steps of the installation process, start the application and click Live Streaming tab. If you don't have a Twitch account yet, go to twitch.tv and set up a new account. All you need to have to sign up to Twitch is your own unique username, password, date of birth, email address and "Captcha" verification.
After creating your Twitch account, go back to Action!'s user interface and configure your broadcast. More about Live stream set up, you can find in our previous post: What are overlay sources and how to use Streamlabs Overlays to create a Pro looking Live Stream.
Now, after you choose the best set up for your stream,  go to your Twitch account and copy-paste your Twitch Stream Key in the right field in Action! 3.0. To find your unique Twitch stream code:
Go to the right up corner of your Twitch view,
Click on your user
Drop down the menu and click "Dashboard"
Head over to the left side menu and choose "Channel"
Click "Stream Key"
Copy and paste your Twitch code in the Action!
The last thing needed is a Custom RTMP server URL. To find proper URL you may visit:
https://bashtech.net/twitch/ingest.php
and choose the server that is closest to your location for the best performance.
All right, if everything is set properly, you can start your first Live stream.
Now, you may ask the question: How can I broadcast to Twitch without a Stream Key?
Technically speaking, this streaming method is even easier and faster than streaming with a Stream Key and RTMP server. All you need to do is to log into your Twitch account in Action!'s built-in account manager and press "LIVE" button – that's it. Similarly, you can start broadcasting to your YouTube account, Facebook and Smashcast.
Ready to start your first broadcast on Twitch?
Leave a comment below to let us know which streaming technique you're going to try first: Custom RTMP streaming or streaming with an application account manager?
Either way, have a great time LIVE Streaming on Twitch!