Many people are looking for great speakers for their PC's, either to watch some videos, play games or simply relax while listening to a music in best quality. To help you with the search, we've prepared a list of best speakers currently available.
Genius SW 2000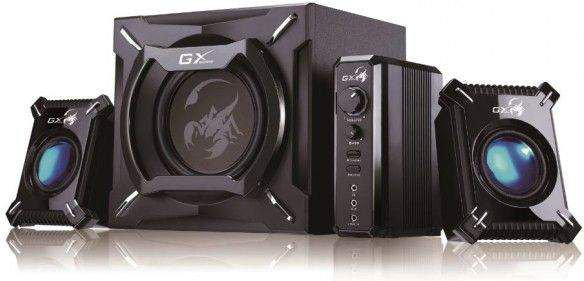 This model is equipped with a wooden subwoofer that achieves pounding low tones. If you want to enjoy more powerful low tones while listening to the music or playing the game, then you should try Genius SW 2000. They use a 3-inch metal cone-shaped diaphragm that produces vivid and vibrating mid and high frequencies in shapely satellite speakers. The subwoofer is equipped with a 6.5-inch diaphragm with a mirror port in a wooden enclosure so that you can experience heavy low-frequency beats with frequencies up to 35 GHz.
Apart from traditional adjustment box, that lets you easily control the sound, speakers are also equipped with a microphone socket in case you'd like much more comfortable mic connection while talking to your friend/teammates. The speakers are very cheap with their price revolving around $75
AVerMedia GS315 Ballista Trinity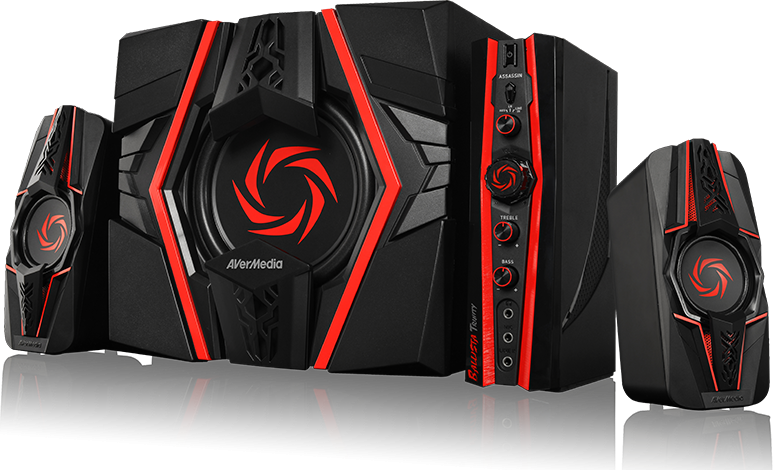 Ballista speakers were created especially for gamers. The huge improvement in the quality of sound while playing is attributed to gentle lowering the volumes of individual tones and strengthening bass and sounds with frequencies similar to explosions, gunfire or a scream. Fully configurable, the speakers not only provide full immersion for gamers but also become an interesting proposition for more demanding music lovers. Speakers are very futuristic in their look and cost around $120.
Ballista speakers have been designed to maximize the gaming experience. This was achieved by gently lowering the volume of individual tones and strengthening bass and sounds with frequencies similar to explosions, gunfire or human screams. Thanks to the possibility of full configuration, the loudspeakers not only provide full immersion during dynamic games or action movies, but they can become an interesting proposition for more demanding music lovers.
Corsair SP2500 2.1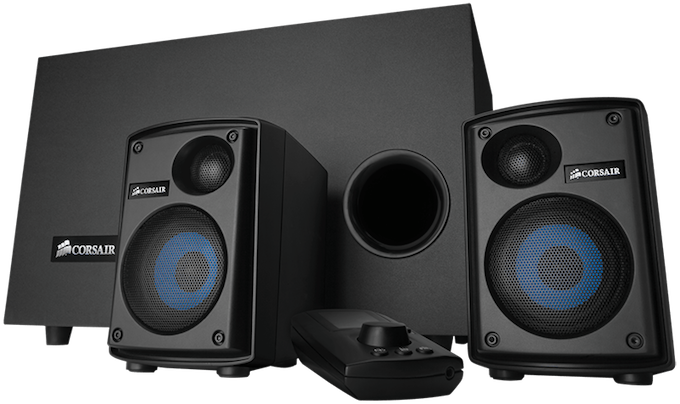 Those speakers are a debut for Corsair. As their first speakers, it must be admitted that they did a very good job. They can safely be assumed to be one of the best PC speakers currently available.
If you are an audio freak and seek only the best solutions, you might find this model satisfying for you with 232 watts of power going through six amplifiers in class D. You can easily configure all sounds and tunes on your remote equipped with color TFT display. Unfortunately perfection costs, and you can acquire those great speakers for around $280.
Logitech X-540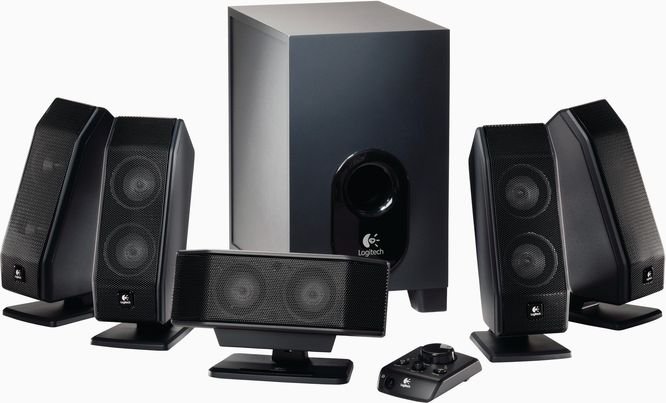 The first speakers on this list in 5.1 variety. X-540 offers deep bass that lets you immerse yourself in your favorite sounds – even those from stereo sources. You will always experience the richness of sounds while playing games or watching movies. Speakers are equipped with a system that converts stereo sources to 5.1 surround sound. Each speaker has two diaphragms what gives a balanced and intense sound clearly heard everywhere. Dynamic correction enables bass reproduction with less distortion. Additionally, the subwoofer has been equipped with diaphragms with a diameter of 13.3 cm, which is able to move larger amounts of air, providing deeper bass.
Razer FEROX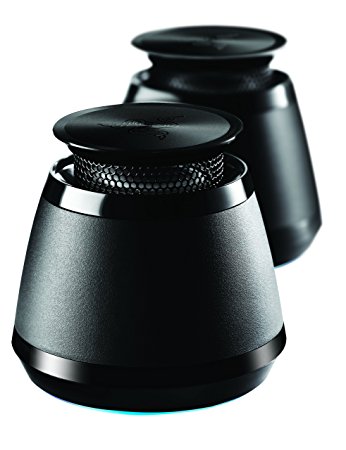 Small, cheap, and portable. If you're a person that usually plays or does anything on the laptop, you should definitely consider Razer FEROX. Those 2.0 speakers, with 2x 3W output power, offer acoustic band in 150 HZ – 20 kHz. One thing that is very nice about them is that creators decided to include multi-directional sound processing technology. They can be powered by plugging them into USB or also have a battery that allows them to work for up to 12 hours.
If you're a mobile person and like to take your games/music with you, this is a top 1 choice for you. Razer FEROX will cost you only around $55
Creative GigaWorks T40 Series II 2.0 Gaming Speakers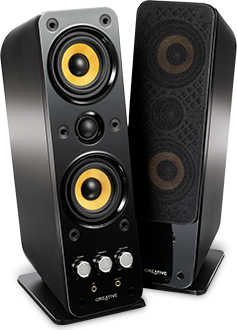 This model of speakers will satisfy those people who have high standards when it comes to sound, either while listening to the music, playing games or watching movies. Those speakers were created to create the perfect sound for your ears. Professional midrange speakers with advanced tweeters in the MTM system, provide excellent sound reproduction. Nice addition to the set is the implementation of BasXPort technology which pretty much guarantees dynamic bass – no subwoofer required.
If you're looking for small, yet reliable speakers, this is a choice for you.
Logitech Z5906 5.1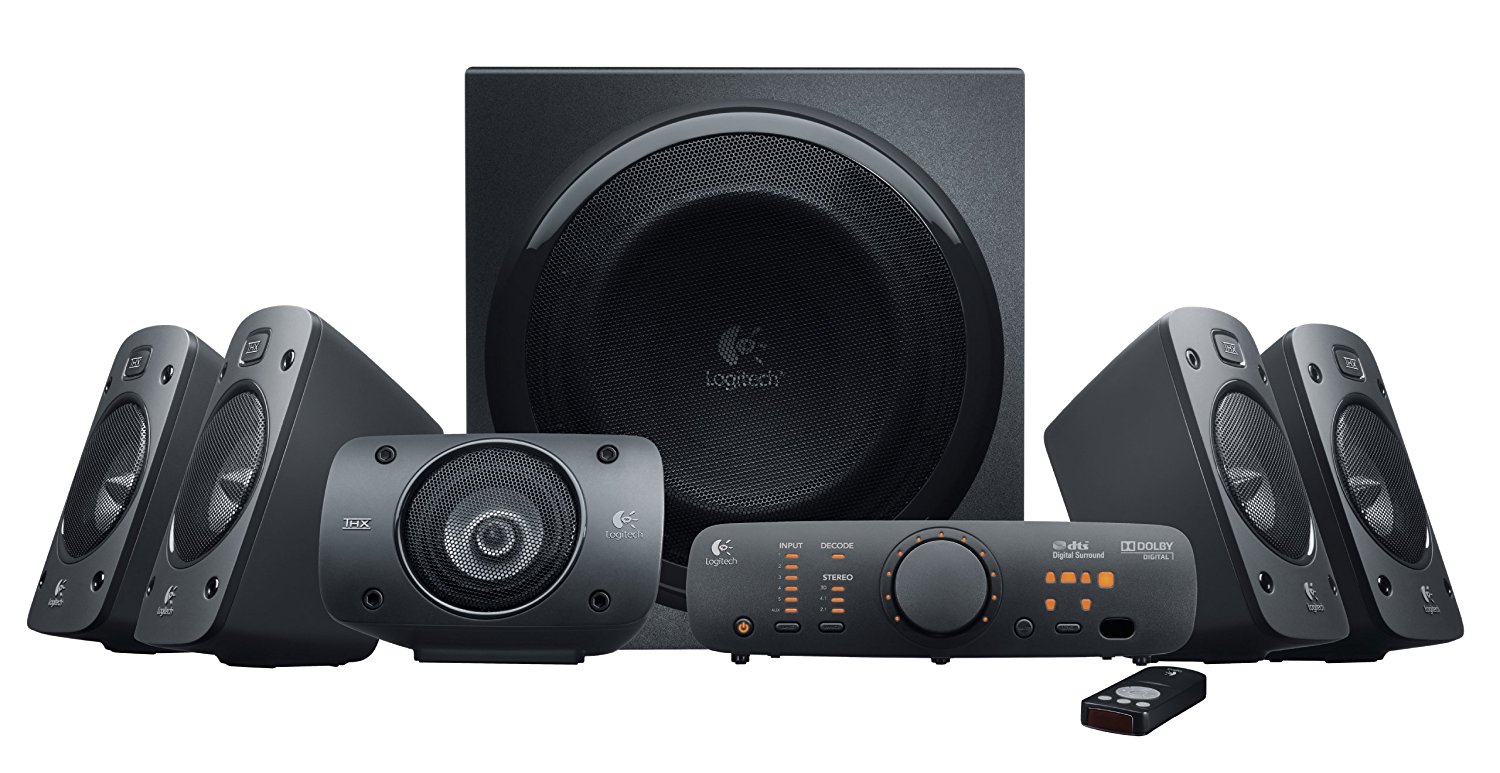 If you have a room where you can appropriately place this 5.1 model speakers, you can expect cinematic surround sound while watching movies or when playing FPS games, where hearing where the enemy is coming from is crucial.
With 500 watts power, you can produce sounds so loud that your entire apartment starts shaking. If you need a proof of quality, then rest assured as this model has been approved with THX? certificate. Another nice addition to the speakers is the ability to connect up to six devices such as TV's, DVR, Xbox, PlayStation, PC etc.
I hope that this list showed you a bit, what are the good sides of each speaker set presented here. If you want something added to the list, let us know.