Playing games on game consoles have always been so much fun.
The thing is… it's best if it's shared with/among other people.
Due to constantly growing interest in live streaming and recording, console players now require a professional way to broadcast their gameplay to YouTube or Twitch. Since PC gamers use their machines to do that, consoles prove to be a bit more problematic and lacking when it comes to professional live streaming and recording software.
To help bring console gamers up to par with PC ones, game capture cards were developed – they are meant to help you record and upload your gameplay online. If you have such card (and relatively proper PC and Internet connection) you can rest assured. By sending a signal from your console into your capture card which then transfers raw, non-encoded picture from the card into your PC, you will receive the best possible quality that you can get while playing a console game. Your PC resources are not used as much since a lot of the work is done by the capture card itself.
Remember that in order to live stream the gameplay from your console you also need additional software on your PC that will stream directly to YouTube or Twitch. Here is where Action! LIVE streaming software is extremely useful. Not only it allows capturing the gameplay from your console, but also allows to broadcast it to most popular streaming services.
But before delving into how it all works and how to it all up, let's show a couple of the best capture cards currently available on the market. All cards described here, allow capturing games in 1080p, while definite most captures them also in 60 FPS.
Popular Elgato capture cards:
Elgato Game Capture HD60 S

1080p/60 fps

USB 3.0 Type

Elgato Game Capture HD60 PRO

1080p/60 fps

PCIe

Elgato Game Capture HD60

1080p/60 fps

USB 2.0

Elgato Game Capture HD

1080p/30 fps

USB 2.0
Avermedia Capture cards:
AVerMedia Live Gamer HD 2

1080p/60 fps

PCIe

AVerMedia Live Gamer HD

1080p/30 fps

PCIe

AVerMedia Live Gamer Extreme GC550

1080p/60 fps

USB 3.0

AVerMedia Live Gamer Portable 2

1080p/60 fps

USB 2.0
Other interesting choices:
Roxio Game Capture HD PRO

1080p/30 fps

USB 2.0

AGPtek HD Game Recorder

1080p/30 fps

USB 2.0

Diamond GC1500 HD

1080p/30 fps

USB 2.0

Hauppauge HD PVR 2 Gaming Edition

1080p/30 fps

USB 2.0

Razer Ripsaw Game Stream

1080p/60 fps

USB 3.0
Types of Capture cards:
USB 2.0 Capture Cards
Nowadays, USB 2.0 Capture Cards are no longer recommended due to their encoding speeds. While picture remains crystal clear, all videos recorded in 1080p in 60fps and even those in 30fps tend to have a huge lag. While LIVE streaming, you may expect a 4-6 second lag between your webcam reaction and the actual screen from the capture device, due to 480 Mbit/s bandwidth, which isn't even closely enough to provide lag-free footage. Two positive aspects of those cards are the fact that they are portable and relatively cheaper than USB 3.0 or PCI-e cards.
USB 3.0 Capture Cards
If you are looking for more reliable way to live stream your gameplay with capture card, this would be the best choice. However, even though the bandwidth in USB 3.0 Capture Cards is ten times greater than in USB 2.0 (up to 5 Gbit/s), you may still experience lag while streaming your gameplay from console in 1080p and 60FPS (30 FPS should do fine). Increased bandwidth speed means that the capture card is considerably more expensive. However, if you travel often or tend to record in 2-3 different places, then having an external capture card seems like a way to go.

PCI-E Capture Cards
This is an ultimate choice for all those who seek minimum lag with perfect quality. PCI-E cards are internal cards installed into your motherboard. This provides huge bandwidth, where lag is even 2 times lower than with USB 3.0 (around 64ms). You may expect a higher price. Another unfortunate disadvantage of those cards is the requirement to own a PC with motherboard that has at least 2 PCI slots. Unfortunately, you won't enjoy PCI-E capture card in your laptop. So if you're a mobile person and record in few different places, you probably should consider an external capture card.
How to record using capture card
Before I describe exactly how to record using the capture card, it is important to know if your computer is good enough to handle a capture card and encoding.
Good Internet connection (Upload speed) – at least 10mb/s for 1080p live streams

CPU newer i5 models or i7

Device for recording (Gaming console)

1-2 HDMI cables and (GPU with at least 2 input slots)

USB Cable
And now setting everything up:
Setting up portable/external/USB capture device
Follow this simple infographic to quickly learn how to quickly connect your console with PC via external capture card:

Run game recorder Action!, switch into device recording mode, choose input device from the first drop-down menu, set your
ideal settings, that correspond with maximum capabilities of your capture card and simply hit the record button.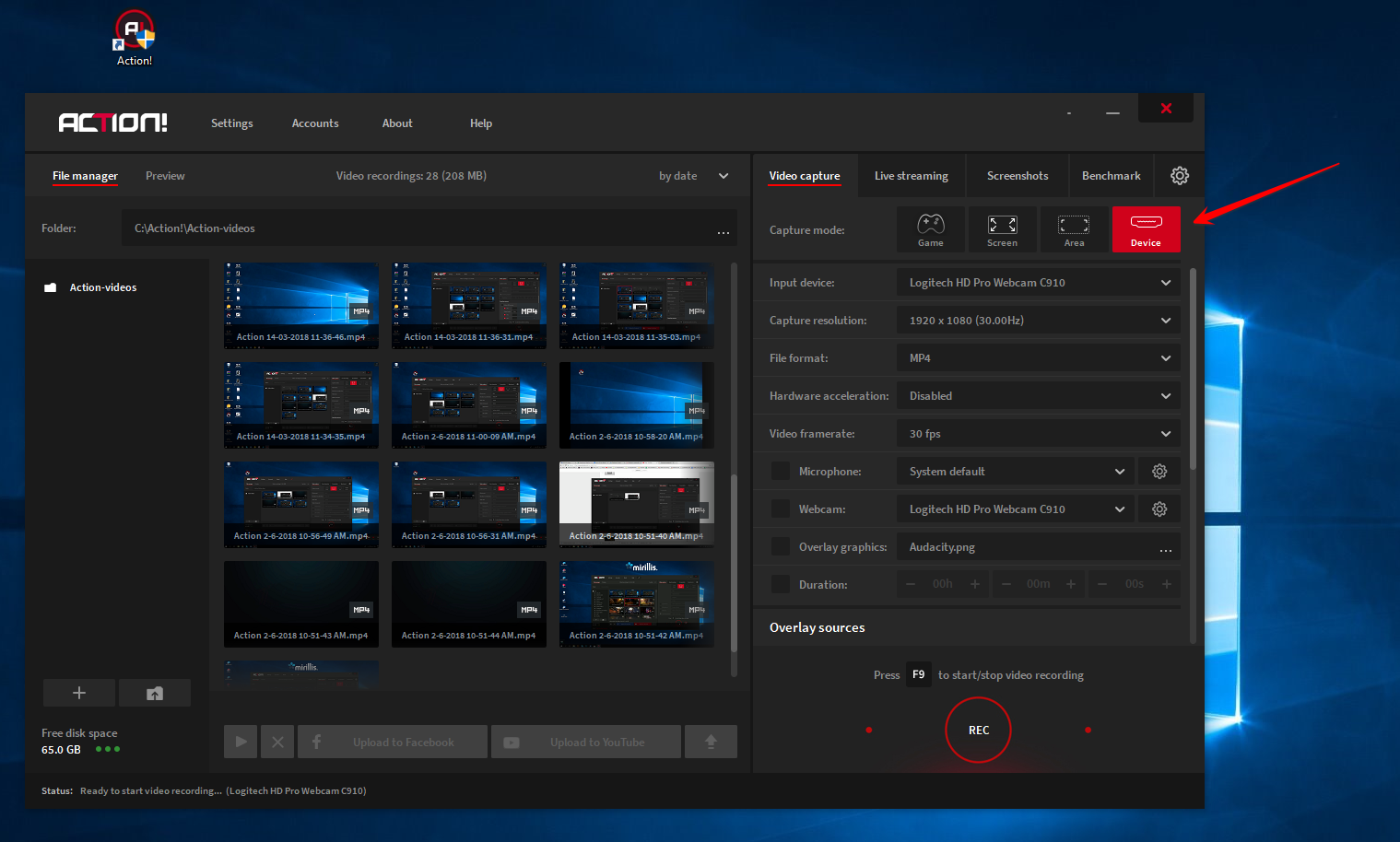 Alternatively, it is possible to plug in your Xbox 360 or PlayStation to your external capture card with use of AV cables. Here are the following steps:

Run Action! and follow the instructions as described above, in previous method.
Recording with PCI capture card
Another possibility to start recording your gameplay from Xbox One or PS4 with PCI capture device goes as follows:

Run game recorder Action! and follow the instruction as described above, in the first section
Additional tips:
You need to install appropriate drivers for your capture card to record the screen with Mirillis Action! (Windows 10 usually automatically does that for you).

PCI cards in most cases provide better results in terms of quality than USB portable capture cards.

When possible, try to plug your USB capture card into USB 3.0 slot on your computer.
Advantages of Mirillis Action!
If you want to record/broadcast your console gameplay via capture card, you also need a specialized software installed on your laptop or PC.
Mirillis Action! is a great software to record gameplay from all consoles, especially Xbox and PlayStation.
Your video will look much more professional when you LIVE stream your console gameplay to Twitch.tv while using Action! overlay support where you can view Twitch chat, alerts, notifications and more.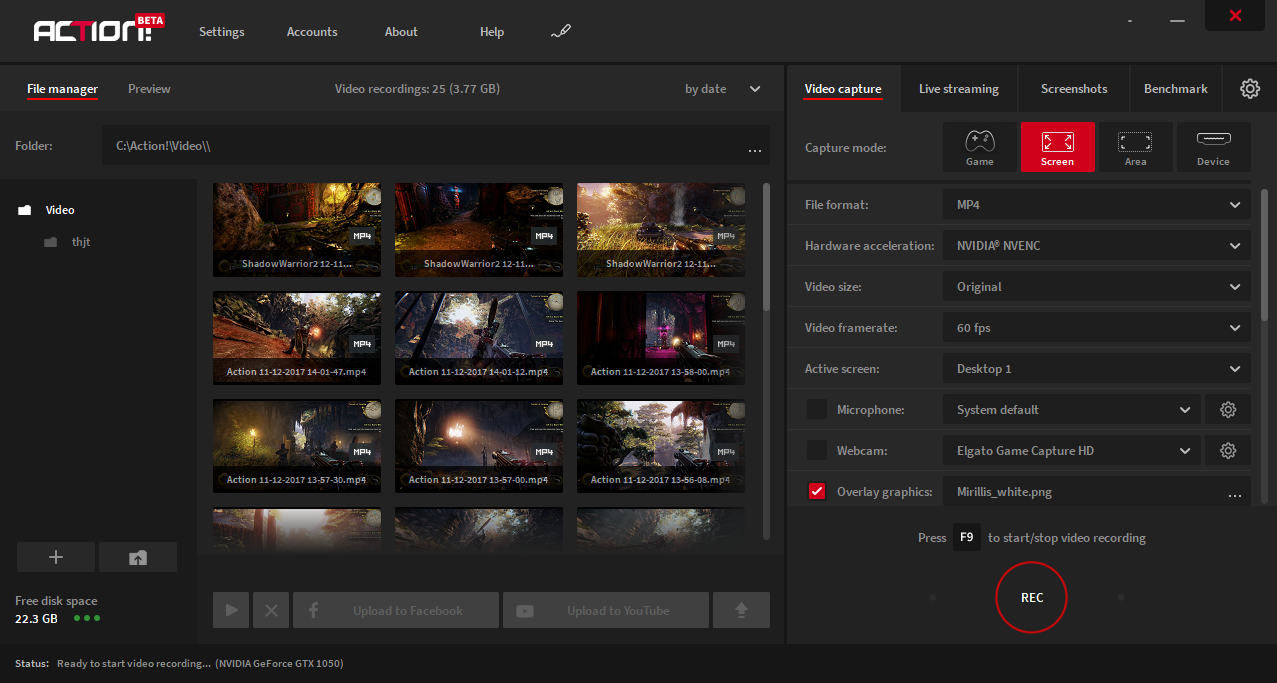 Check it out if you'd like to see more <LINK>