PowerPoint is a widely used presentation software known by everyone. Every day, millions of users create their presentations across every single field of society – business, education, lifestyle etc. The big problem with a presentation is that it tends to get trivial, and people start losing attention really quickly. Adding various animations, transitions and interesting images may partially mitigate this problem. Instead of trying to further improve the presentation, you can convert it into a video. Thanks to this procedure, your presentation retains its flow and also keeps attention on the presentation rather than away from it.
Videos nowadays are one of the best marketing, business, and education tool when it comes to sharing information? Much more often Google itself decides to present you with a video answering someone's questions rather than a wall of text.
Why would I want to convert powerpoint presentation into a video?
It is likely that sometimes you won't be able to attend a class, meeting etc. – to save yourself from a difficult situation, you might convert your presentation to video and send it to anyone whom it concerns – for example, a tutorial guide could be sent to your clients or coworkers. A detailed work reports could be sent to your boss, manager or supervisor. The necessary steps you need to do is adding visual animations, narration and/or subtitles, although that last one might be missing the point of making presentation into a video in some cases.
Prerequisites before you start recording/converting your presentation:
Prepare a script – It is obvious that since you can't be where you need to be to present your work, you need to add commentary to the video you are about to record. Remember that it must remain interesting and direct. Recording such videos without a script will most likely have lots of speech errors.
Test your equipment – Check if your microphone records properly, without any unnecessary background noise. Check our other guide to see how you can improve your audio quality. Also, if your PC isn't too good, make sure to close all unnecessary applications so the video won't lag.
Download Screen Recording Software – The only way you can make PowerPoint presentation into a video is by having screen recorder installed on your machine. What we suggest is a software called Action!
Action! is a professional yet very easy-to-use software which allows you to record your screen or part of it. Additionally, with built-in drawing panel, you can make your video even more professional. Below you can find a quick tutorial on how to use it efficiently.
First of all, click the link below to download Action!

After an easy and intuitive installation, open Action! (from shortcut desktop). If you're going to record a presentation in full screen, set recording into Screen capture mode, which allows recording everything you see on your computer screen and enable your microphone and a webcam. Bring your presentation into full screen and click F9 to start recording
(note: HUD window on top right corner won't be recorded by default, so don't worry about having it in the final video. You can hide it anyway by pressing F6)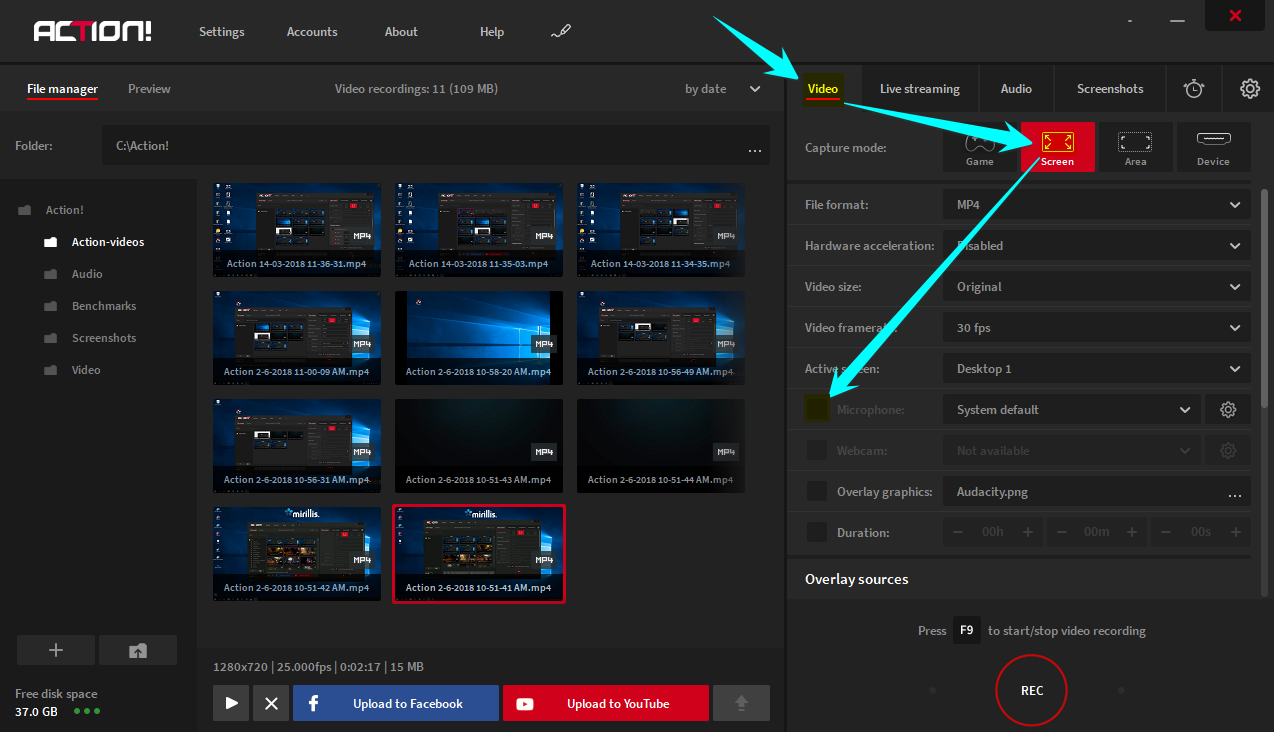 In case you need to take a breather or short break, press SHIFT+F9 to pause the video. Click it again to resume recording. This removes the necessity to edit the video after recording.
All your recorded videos are stored in video library visible in Action! This helps you access them easily, whenever you might want to send it to somebody else. Especially useful for guides and tutorials. Alternatively, Action! allows you to upload videos directly to YouTube or Facebook for anyone to see! Great, right?
It's so easy, efficient and video quality is incredible. If you'd like to stay with us and check what other great features Action! has in stock, here is a gift for you!
Clicking >>this link<< and using coupon code "Action_For_Presentation" you will get a 25% discount on Action! purchase!