Game streaming services are more popular than ever before. Live streaming boom and desire to share the best moments of your gameplay with others has made Twitch insanely popular platform. Now, your favorite game can be a great entertainment not only for you but also for hundreds or thousands other people around the world. And you don't have to let them all into your house. Basically, to start broadcasting to Twitch you need a Twitch account and a desktop software like Mirillis Action! that will allow you to easily record and stream your games directly to Twitch.tv.
Broadcasting is no longer an exclusive domain of film studios. Nowadays, even you can build up your own, dedicated audience and become a recognizable celebrity among other superstars. Contrary to what one might expect, streaming to Twitch is not that hard and this guide will walk you through the whole setup process step by step.
Many people ask themselves: "How to start?", "What is needed?" "Am I fit to be a streamer?" etc. Well… you don't know until you try. Simple. You won't find a book about this topic and the information on the internet are usually scattered and very often out-of-date. In this guide, we will try to put the most important things together so… Let's dive right in.
Twitch account
At the beginning of your streaming adventure to Twitch, you need to create a free Twitch account. Visit Twitch.tv and set up an account. Registration is fast and simple, all you need to do is to make up a username, password and enter your date of birth. The channel configuration should not cause any troubles as well.
What next?
Now you need to install a third-party broadcasting program to start streaming your game to Twitch. You may find many streaming software on the internet that vary in price, level of optimization, the number of built-in tools, etc. Mirillis Action! is a user-friendly and feature packed software that will meet your expectations and make your streams look professional. Download and stream now with our own game recorder Mirillis Action! A simple installation wizard will walk you through the whole installation process quickly and easily.
Mirillis Action! streaming options
The software enables you to stream your videos in two ways: Either login directly to the application via Account Manager or use a stream key. We will discuss shortly both streaming methods.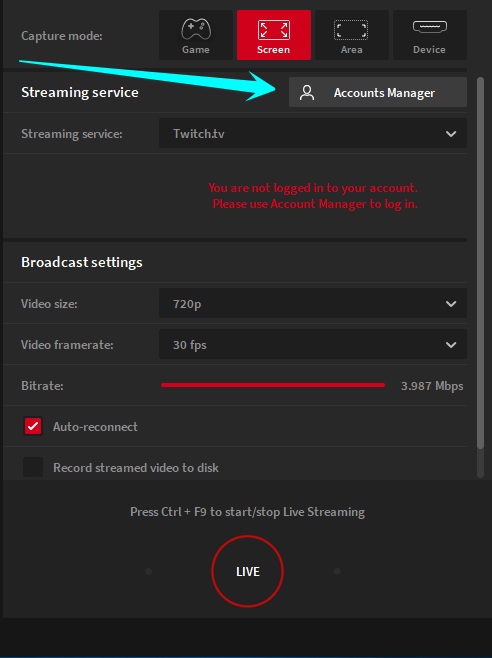 The option with login is more convenient since you do not need to look for Stream Key or RTMP server. To broadcast your game to Twitch just go to LIVE streaming, then select Twitch.tv from "Streaming service" drop-down. Click Account Manager, and then click on "Login to Twitch" button to show a new Login window.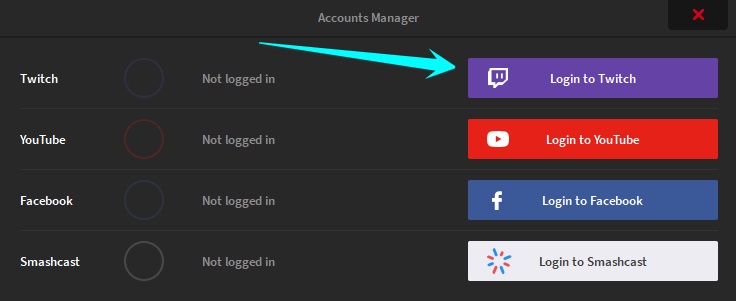 If you experience some problems and cannot login to Twitch you can always use the second option with stream key. To use this option, remember to select Custom from Streaming service list.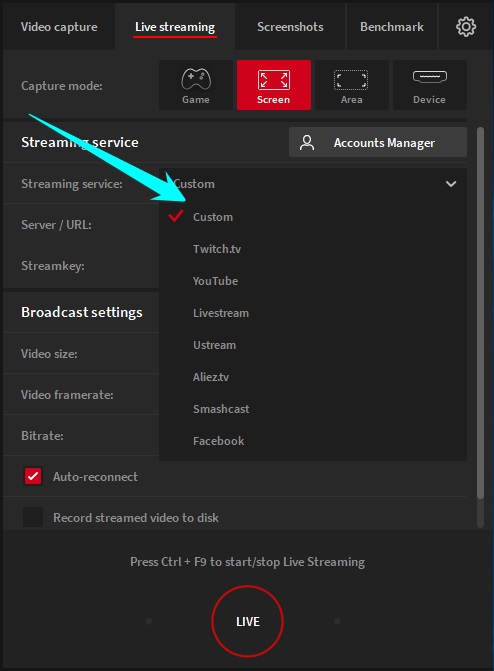 Now, you will need to provide RTMP server URL and a Stream Key. For the best performance select the RTMP server that is located close to your location. Go to https://bashtech.net/twitch/ingest.php then copy and paste your selected RTMP URL to Server / URL field.
Next, visit Twitch.tv and log in to your account. Go to top-right corner to pull down the menu list and select Dashboard. Move on to the left side of the screen and choose Settings tab. Next select Stream Key. Click Show Key button to display your Stream Key. Copy and paste your Stream Key to Action!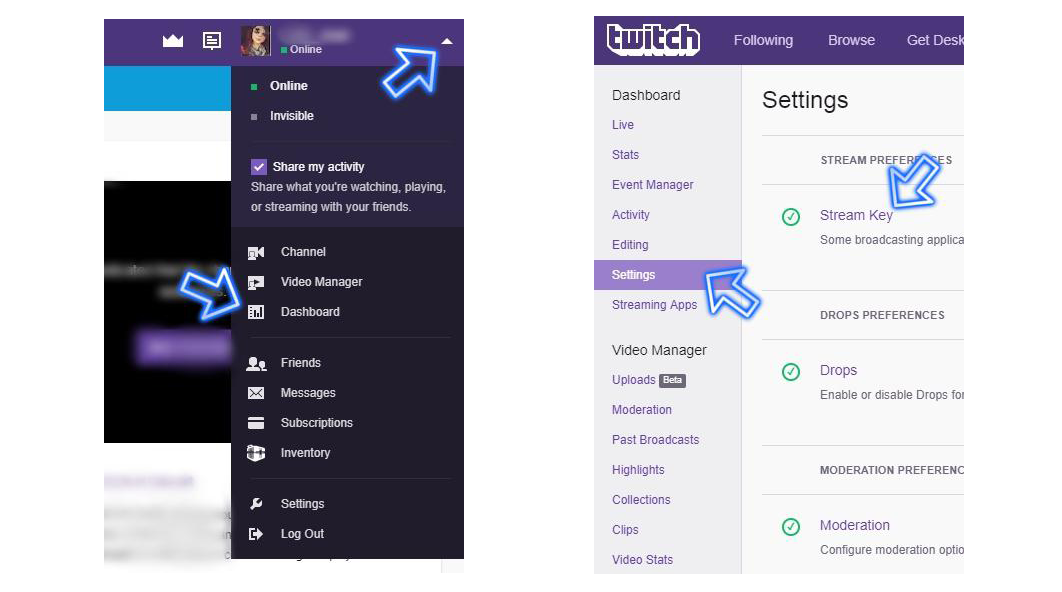 Remember not to share this code with anyone else, unless you want the strangers to stream their gameplays to your channel.
Now you know how to start your LIVE streaming to Twitch.tv, but before you start broadcasting we highly advise to optimize and configure your stream. There are many things that will need to be discussed, however, in this article we will focus on few basic aspects. The guide concerning hardware and the best configuration of the streaming set will be discussed closely in the next dedicated article.
Mirillis Action! streaming configuration
At the very beginning, it's important to adjust streaming settings to Internet connection upload speed. Go to LIVE streaming tab. Set video size, framerate, and bitrate for your broadcast. In case of problems, you should reduce video size and/or framerate/bitrate and try again.
Please note that Live streaming in HD resolution is recommended for PCs with Intel Quick Sync Video, AMD APP or NVIDIA NVENC acceleration for video encoding.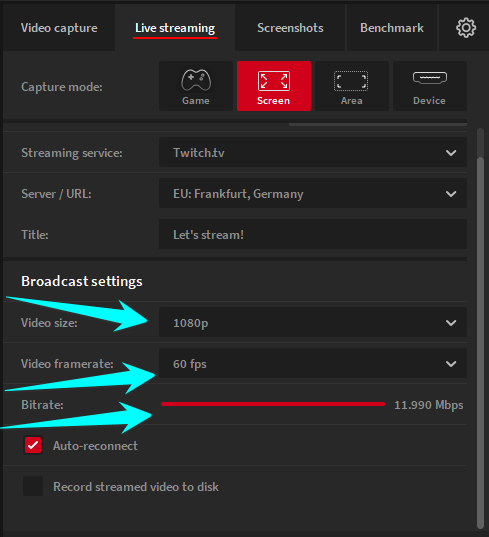 Internet connection might be one of the biggest obstacles while streaming. Streaming transmits a considerable amount of data, that is why we need high Internet speed connection. Most of us don't check the upload speed while signing the agreement with their Internet service provider. It happens that Internet speed quality is 10 to 1. Basically, it means that if your download speed equals 50 Mb/s, the upload speed is only 5 Mb/s. To share the best video quality, Twitch.tv recommends 4 Mb/s as upload speed. If your upload bandwidth is too low, let's say your connections ensures 1 Mb of data transfer speed, you can be almost sure that instead of smooth video quality your recipients get a beautiful slideshow. In general, the minimum upload speed for classic 3D games estimates around 2 Mb, however, when it comes to dynamic shooter games 2 Mb might appear not enough. Some Internet service providers offer symmetrical Internet connection, which means that download and upload speed are close to identical. If you are curious how fast is your connection speed go to http://beta.speedtest.net
Camera and microphone
If you want to give your streams a personal touch add a webcam to your recordings. Enable webcam, click on webcam settings button right next to it and set the size and the position of your webcam. If you want to apply a green screen effect not to show your home or office background, select Use Chroma key option. To make this effect work perfectly, don't forget to place some curtain with uniform color behind your back.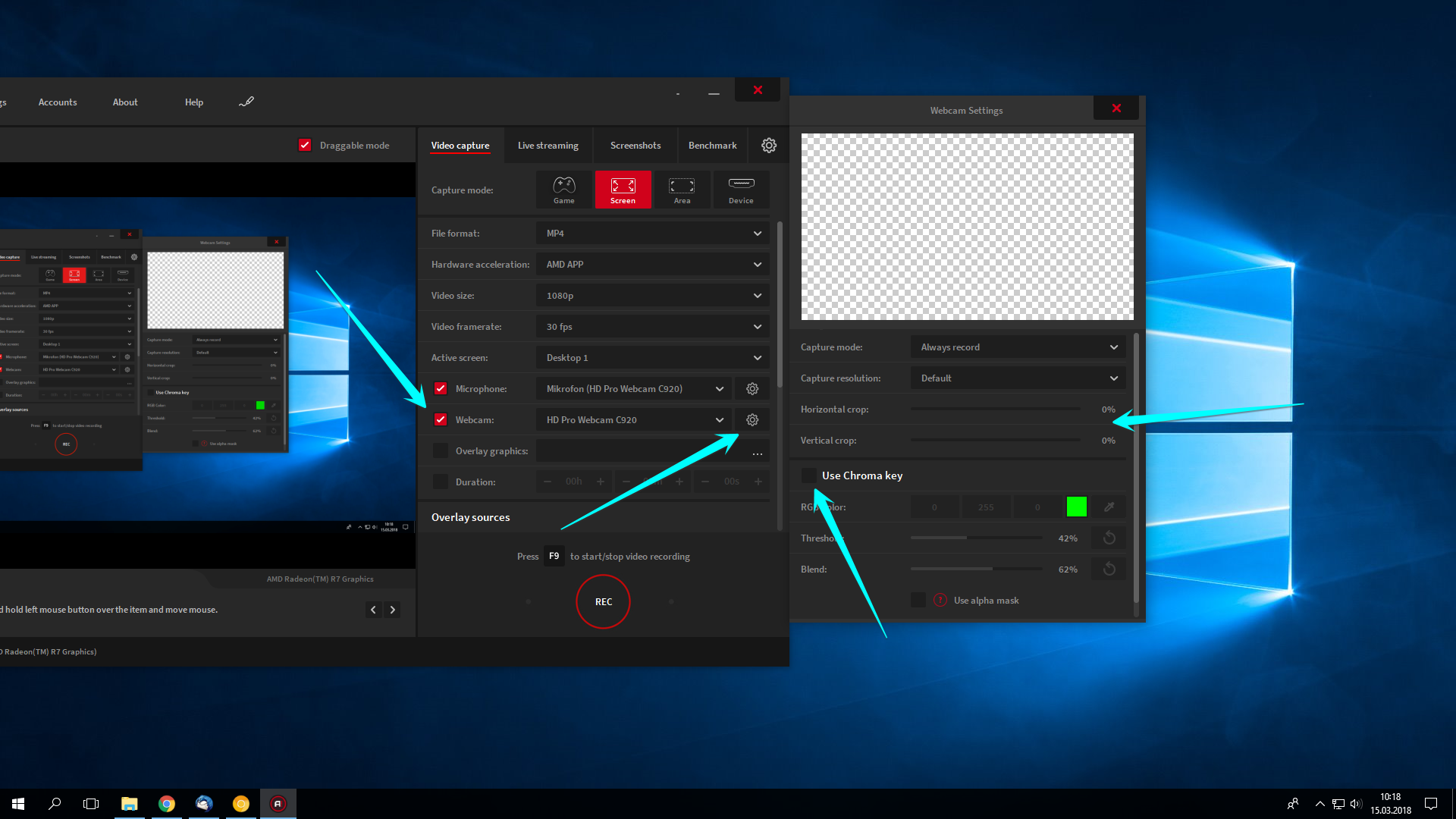 You can record your webcam in three ways: all the time, on a button (you start/stop recording when you press F4 button) or you may record your webcam only if you press and hold F4 button. Please note that if you are a laptop user, default Action! hotkeys might require pressing additionally function button (Fn).
If you want to attach voice commentary, you will need to set up and configure your microphone in almost the same way as a webcam.
How to add logo to my streams
To make your streams look even more professional, add your own watermark. To apply your own logo, go to either game or screen recording mode and click Overlay graphics tab and upload your watermark. Next, choose the position of the overlay graphic and done.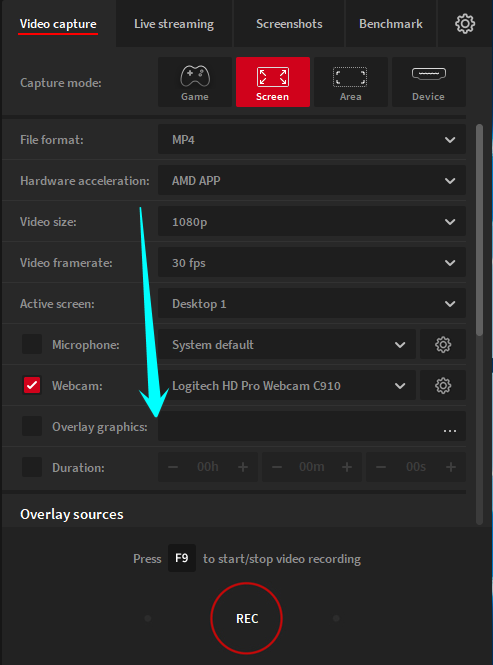 URL overlays in Action! 3.0
We've implemented a new feature that supports Streamlabs and other similar overlay widgets available on the Internet. They will make your stream look professional. Not only can you create those overlays for your viewers, but you can also make them visible on your screen while you're streaming. So how's it done? First off, you need to log into Streamlabs.com for example via your YouTube or Twitch account.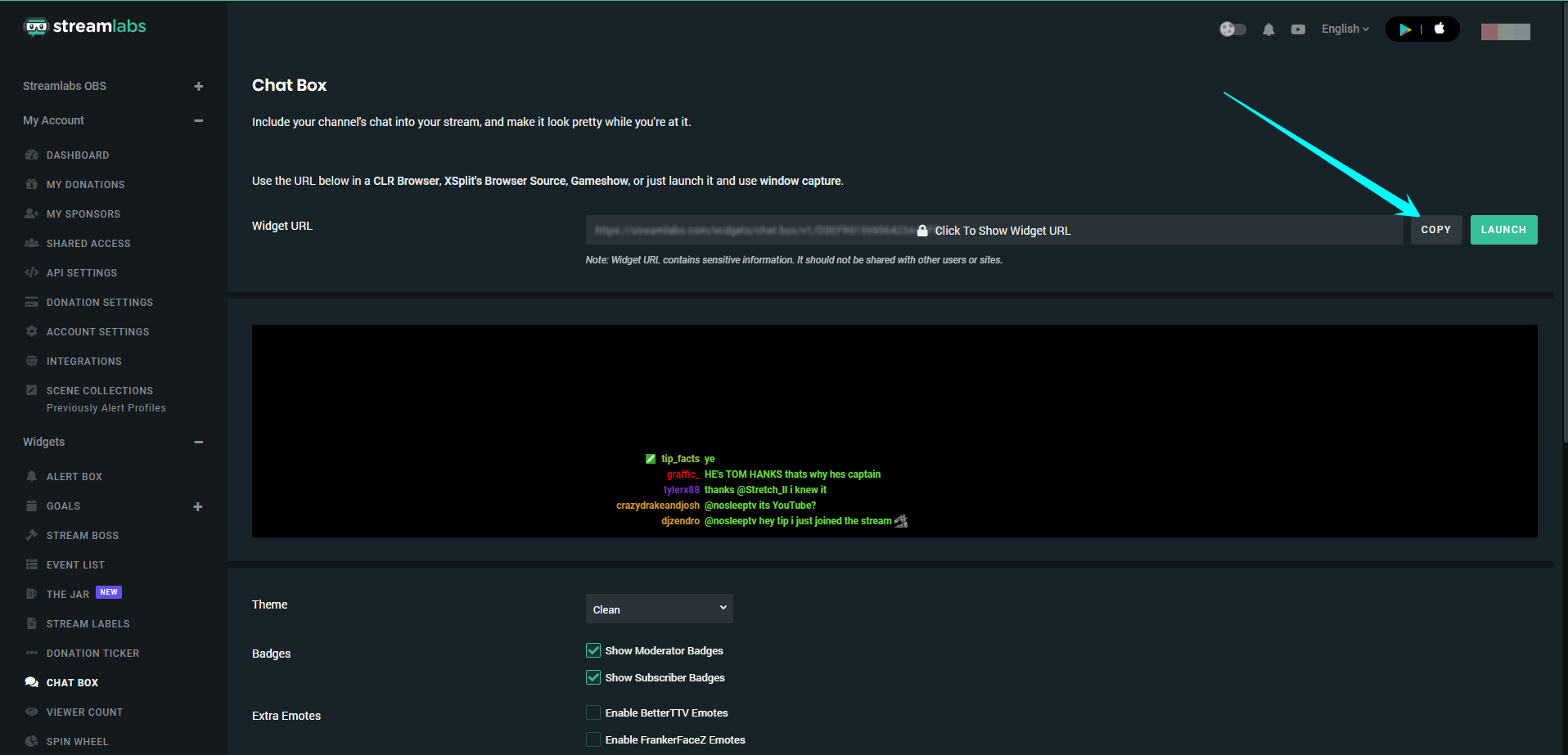 Then go to any overlay category you are interested in. In the example shown on the screen, we've clicked on "chat box" widget section. The chat box is already pre-customized, so if you don't want to delve into it too much, simply press copy near the blurred link and then paste it into Action! in the designated area. It is located in the bottom section of either game recording mode or screen recording mode.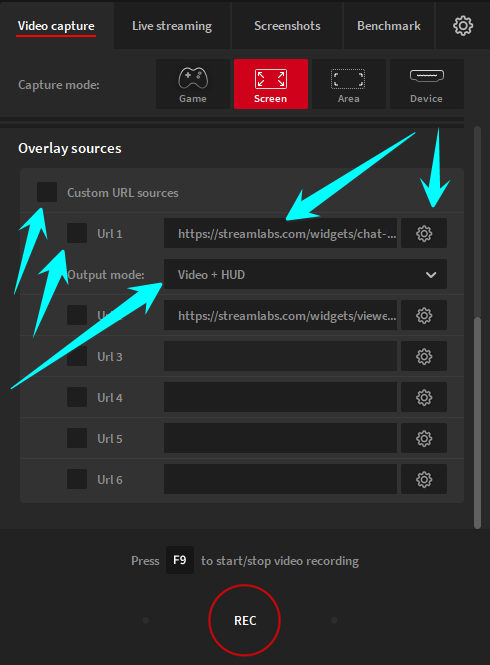 URL1 allows you to specify where do you want the chat box to appear – it may appear in form of non-recorded HUD, a normal overlay visible only to streamers, or both at the same time. Remember that you can easily position overlays wherever you like. Simply enable "Draggable mode" and move selected overlays at will.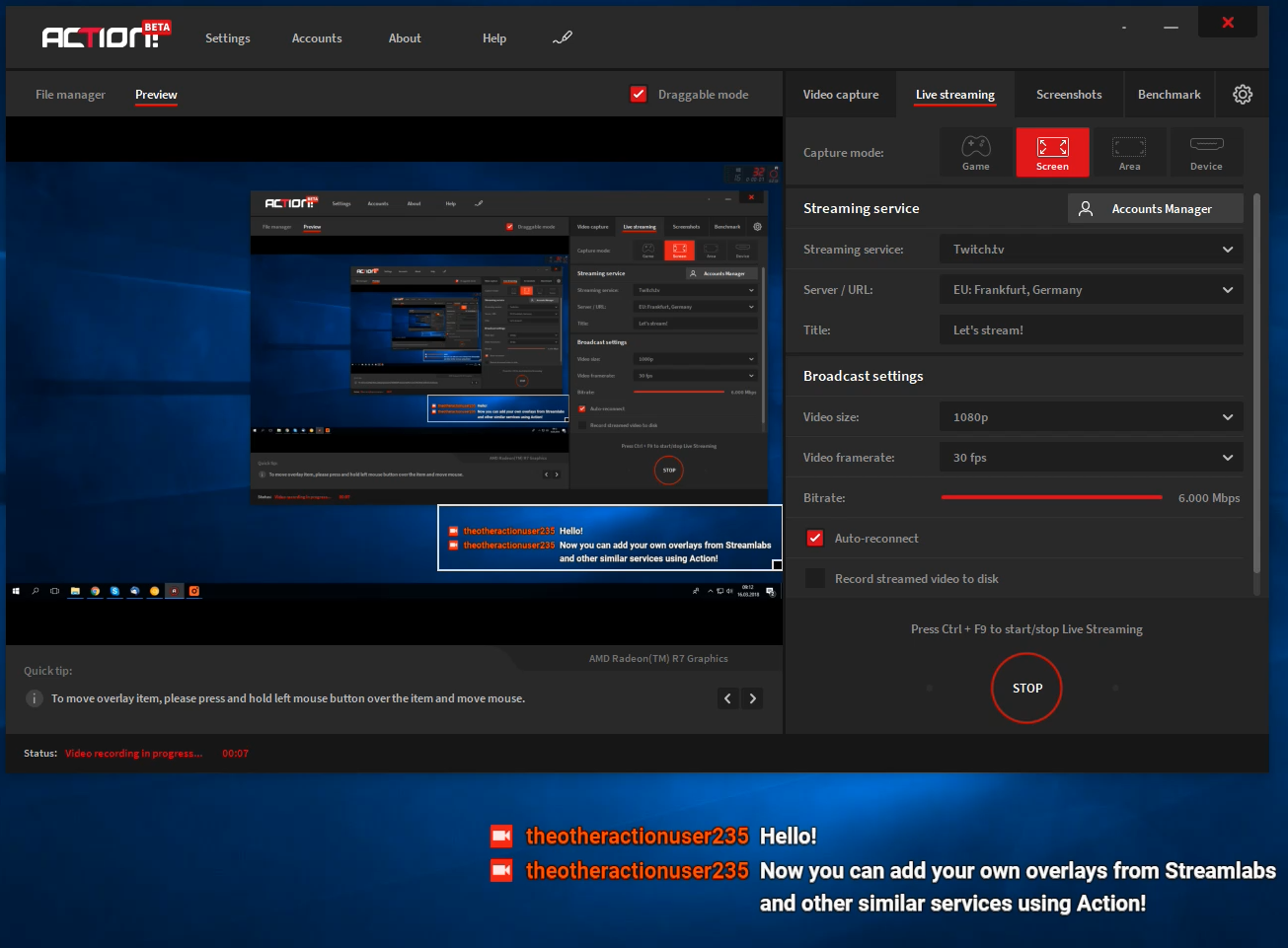 Right now you have a professionally set up LIVE stream! Enjoy!
Don't forget to pay attention to…

A computer you use to broadcast impacts essentially the quality of your streams. It should be mentioned that your PC or gaming laptop must meet the requirements of games you are trying to play. Its capacity must be sufficient not only to start the game but also to ensure its smooth performance, processing, and storage of the display video.
Now you can see that streaming is not that hard. Equipped in some basic knowledge you can check it out yourself and run a successful broadcast. However, there's still much more to explore. All in all, streaming should be fun! You're still playing your favorite games, remember?